Gary,
Our time with Jon significantly exceeded our expectations for our tour of Canadian WW1 sites!
Beginning the tour with a visit to a Commonwealth War Graves Commission Cemetery, really helped to set the scene and provide background on the approach to honouring Commonwealth soldiers.
Jon had researched the war records of my great uncle and took us to the field where he was shot, and could point out the area where the German soldiers had their machine guns.
He then brought us to the nearby cemetery where we could see the graves of the other 215 Canadian soldiers who fought with my great uncle and are buried with him. This brought me such a sense of comfort to know he was buried with his colleagues. From here, Jon continued to provide a complete history of the Canadian contribution, and loss of life in the area.
We were blown away with his detailed knowledge of the battles and very intrigued with stops at various German bunkers and fields where artillery can still (104 years later) be found.
Jon really brought the history to life for us and for this we are very appreciative.
He also used our lunch visits to share insights on the rebuild of communities in northern France.
I would highly recommend Jon as a guide for any other Canadians looking to understand the contribution of Canadians in WW1, and will reach out to you again Gary when we decide to visit sites of WWII.
Please let me know if any questions, or if anything more would be helpful.
Cindy Dunn and Mark Florence, Toronto, ON
**Cindy was following in the footsteps of her great uncle, on a WWI pilgrimage tour
---
Gary,
It was an excellent day – thank you.
Eric Slavens, Toronto, ON
---
Hi Gary,
Jim exceeded our expectations in every way. He was the ideal guide, and presented all the information in an easy to follow, informative manner. He was exceptionally flexible with the schedule, letting us start and end our days at the times we requested, and made sure we had plenty of time to spend at the key sites we really wanted to see. He always kept an eye on the weather and shuffled the order of events around to help keep us dry and/or warm, as required.
His depth of knowledge was incredible, and on the rare occasion where he didn't know the answer right away, he had it for me the next day. He always had detailed maps and timetables of every battlefield we visited so that we could effortlessly orient ourselves to the battlespace.
It was really more like travelling with an old friend than a tour guide–he was the absolute perfect choice for the two of us, and we wouldn't hesitate to book again if Jim is made available for a future tour.
Matthew DaLuz, Saint John, NB
Vince Daluz, Ottawa, ON
**This father/son team were kept waiting almost 3 years for their 9 day Canadians Choice tour, because of Covid 19. I am most gratified after reading their testimonial, that the tour (Sept. 19-27, 2022) was well worth the wait. As always Jim, a job well done.
---
Hi Gary,
Things exceeded my expectations frankly, largely in part to the personalized context Jon was able to bring based on the information I had about my Grandfather about also by his own research. He actually clarified a few minor inaccuracies of mine but also broadened my perspective on this personal journey of mine. He would take me off our route for 15 minutes just to say my grandfather likely walked a road or passed through a town between his postings.
Jon was awesome, he even started looking for chalk and other mementoes from the relevant fields so that my wife could use some of it in her artist works once back in Ottawa.
Happy to recommend your firm and Jon, thanks for your flexibility
Cal Kirkpatrick, Ottawa, ON
** Another splendid pilgrimage tour provided by Jon Haslock for an extremely satisfied customer who had waited almost 3 years for his tour Sept. 28 & 29, 2022.
---
Hi Gary;
This must have been the most rescheduled tour in the history of CBT! After the original booking I think we had to make 5 different changes to the schedule! Thanks for your patience.
This 2-day tour of Ypres and the Vimy area exceeded expectations. The tour guide, Jon Haslock (aka Old Blighty) set a brisk pace and we covered more ground than I expected. Jon had done his homework and made sure we visited the important sites involving my ancestors: Sgt Percy Cote, PPCLI; Sgt James Faulds, 25th Bn.; Sgt James McInnes, PPCLI.
I had not expected we would visit the Somme area and Beaumont Hamel was a definite highlight. Vimy was spectacular and we went there twice. Our second visit was early in the morning on day 2 and it was especially moving as there were so few people there. The other highlight was laying a wreath at the Menin Gate. A very moving experience.
What was also great about the tour was gaining an understanding of the importance of the ridges. You read about this aspect of the Great War in countless books and hear about it in various lectures, but until you actually stand there you just can't appreciate how important the high ground was – and as you know it really wasn't that high! At every stop along the tour we would take a moment to look at the land around us and we really 'got it'! Maps don't give you that perspective.
I think that covers it. Thanks again for your patience and providing such a great tour. And by all means pass on our thanks to Jon.
Cam and Ann Gordon, Kitchener, ON
---
Hi Gary,
I wanted to let you know, from my perspective, how great the tour was. Jon is an excellent guide. Very knowledgeable, very approachable and extremely nice! Jon went above and beyond. He took us through the footsteps of Mark's uncle, showed us approximately where he had been killed (in the middle of a farmer's field!) and took us to the cemetery where he was buried. He also took us to ALL of the places Mark had wanted to visit. It was such a fantastic, awesome yet sombre experience. He had bits of knowledge that we would never have learned anywhere else and that is priceless. We learned many new facts and Mark had so many questions, which Jon answered or he told us where we could find the answers. Jon is also well known in the area and had many tips for us.
Mark and I live in Ladner, BC, which is about 15 minutes south of Vancouver. Mark is a firefighter with Vancouver Fire and he has been very vocal telling his colleagues about how wonderful his tour was! I work for London Drugs at the Head Office. It was Clint Mahlman, the CEO, who originally told me about your company and he raved about how well the tour was run and how impactful it was. I have to agree.
Thank you once again. I will definitely be talking about how fantastic our tour was and recommending your company.
Gabriela Whincup, Ladner, BC
** Gabriela and her husband Mark took a WWI Pilgrimage Tour. I'm very pleased that the tour exceeded all their expectations.
---
Hello Gary,
We were so pleased with both of our tours. We are still amazed at how knowledgeable and passionate your guides were. Each tour day was well organized and informative.
They had researched my father's regiment and knew each location where he may have encountered a battle. Although these locations looked entirely different today, seeing the landscape made it easier for us to envision what took place. It was nice to talk with the local property owners too as they also knew the history of their properties and were able to tell us even more. The guides were very helpful in translating when needed.
We can assure you that you do have the very best guides. They were outstanding not only in their guiding but also their kindness. We really appreciate all the work they do to keep this bit of history from being forgotten.
Thank you for making this a memorable moment for us.
Scott and Rosalie Brent, Toronto, ON
**This was an extremely emotional and satisfying pilgrimage for Scott, whose father was a Riley (Royal Hamilton Light Infantry). He and his wife followed the footsteps of his father through the Battles of the Scheldt and the Battles of the Rhine. Many thanks Scott & Rosalie for choosing CBT as your tour operator.
---
Gary,
We've just finished the WWI Tour. Jon saw to it that I visited all the important sites and battles where my Uncle's would have been involved! Very thoroughly done.
We stopped at their Tearoom where I met his wife and even mother-in-law! Nice people!
Thank you for setting this up. I could not have accomplished this on my own. The man knows how to drive this part of France, and how! Far from what I could have accomplished
If I could help you or Jon with recommends, please don't hesitate to refer to me.
Thank you!
Frank Bucknum, Victoria, BC
---
Hi Gary,
I thought that I should also send you an email regarding the tour that I had with Jon. I didn't know that Gabriela had kept this a secret from me for over two years. When I found out that I was going on a private tour to see the battlefield areas of WW1 I still didn't even know that I was going to the places that my great uncle would have been back in 1917. When I found out that what we were going to do I was so excited. I listened to the stories that Jon was telling us about the different sites that we stopped at, like a kid in a candy store. It was so emotional to see where my Uncle had battled, where he probably died and where he was buried. Jon was exceptionally knowledgeable on all the areas we went to. When we arrived at Vimy Ridge and I stood on the monument I have never felt prouder to be a Canadian. Jon took us to spots that I would have never known or been able to understand what happened at these sites if it wasn't for him. This trip was amazing and I would recommend this to anyone that wants the best experience to see the WW1 spots. I never found out how much this experience costed or don't care to know. Seeing this was an experience of a life time and you can not put a price on that.
Thank you for this experience and if there is anything else you need from me regarding Jon I'm more than happy to help out.
Mark Whincup, Vancouver, BC
Congratulations to the newlyweds. Gabriela managed to keep this tour a secret from her husband for 2 years. You can see the effect the surprise had on husband Mark, by reading his testimonial. Well done Gabriela. This kind of response is definitely what keeps us organizing battlefield tours.
---
Hi Gary,
Both Ann & I were thrilled with the tour Jon provided us. He really is an expert when it comes to the knowledge he has amassed over the years. I tried to stump him for fun on some facts but he got the best of me every time. The weather was great and it was the icing on the cake. We would recommend your tours to anyone.
Thank you Gary & Jon.
Brian & Ann Hutchins, Tiny, Ontario
**Brian did a pilgrimage tour following the footsteps of his grandfather, Captain William Stephenson Goodeve MC #5 Dept. Unit Supply  Army Corps Ammunition Park HQ
---
Hi Gary,
Well France has come and gone already…I just wanted to let you know that we had 2 wonderful days with Genevra and Kim.  They were both lovely to spend such long days with and their professionalism and knowledge was exceptional. Gen especially has such a vast knowledge base and is so passionate about all of it. While I know Kim is newer to guiding she gave us a wonderful day tailored to our Canadian interests.
We could not have enjoyed these 2 days more and are very grateful to you for making this kind of arrangement and guiding available to us. I will happily share your info with others who may want to experience this. I will plan to visit your website and include very positive reviews of all.
Thank You,
Andrea Boston, Claremont, Ontario
** Andrea and her son did a general interest tour of the main WWI sites.
---
Tour was fantastic.  Worth every penny.  Jon is amazing.  Extremely knowledgeable and easy going.  We had an amazing tour.  The customization of the tour with regards to my ancestors is an amazing touch. I would strongly recommend your company to anyone interested.
Blair Henderson, Winnipeg, Manitoba, Canada
**Blair did a pilgrimage tour to follow in the footsteps of a distant relative who died in WW1-  William Syme Henderson buried at Etaples.  Died April 18, 1917
---
Gary,
Both Edwin and Jim were very good. Edwin was able to access the war diaries so we did a detailed tour of my fathers footsteps though the Netherlands in WWII.  Jim was extremely knowledgeable about WW1 and described what our grandfather would have been participating in, at particular battles.  Both were very accommodating and helpful.
Regards,
Wayne Smith, P.Geo., Calgary, Alberta, Canada
**Wayne and his large family did 2 Pilgrimage tours to follow in the footsteps of their Father in WWII and their grandfather in WWI.
---
Hello Gary,
Like many war veterans, my grandfather would never talk much about his war experiences. Now, my Grandfather passed away long ago and my father is getting old, the family has wanted to know more about what he went through. The only thing we've known is he was at Passchendaele and was gravely injured there. So my wife and I engaged Canadian Battlefield Tours to help us track down his journey. Our guide, Jon, was able to pull a level of detail that we would never have been able to find on our own. We went to the town he was billeted in, on the way to the front. We went to the training ground where other Commonwealth troops were also training. We went to the staging point where the 4th Canadian Mounted Regiment prepared to rush the German lines. And we went to the very field where he was wounded. As if that wasn't enough, Jon took us to the most likely dressing station my Grandfather would have passed through, as well as many other important sites in the area.
I could never have put something together that was so knowledgeable, and informative on my own. The new information uncovered through this tour is of great importance to my family.
This was a very moving, well lead tour, with important details told in an engaging manner. It was worth every penny, and then some.
Tim & Carolyn Darling, Toronto, Ontario
**Note – Tim & Carolyn Darling, from Toronto did a WWI pilgrimage tour Sept. 13, 2021, during the height of the Covid fears and restrictions, retracing the footsteps of Tim's grandfather, Pte. Clarence Darling, who was wounded in the Passchendaele salient.
---
Hi Gary,
Our tour involved 2 days on the WW I battlefields in France and Belgium and one day exploring WWII battlefields from Juno beach to Caen.
Jim Smithson, our guide for the WWI battlefields, was very knowledgeable and entertaining. We had two very full and busy days and learned a great deal about the experiences and sacrifices of the soldiers of the Canadian corps. We spent the first day touring the Somme battlefields, memorials and graveyards, including Vimy Ridge and the Newfoundland memorial at Beaumont-Hamel. The next day we went to Flanders in Belgium and explored the Passchendaele battlefields and witnessed the last post ceremony held every night at 8:00 pm in Ypres, which was a very moving experience. Jim has a wealth of information on WWI and gave us many insights into the battles and the experiences of Canadian and Commonwealth soldiers.
Robin Burrows-Ellis, our guide for the tour of the WWII battlefields, was also very knowledgeable and entertaining. My wife's uncle Philip (who died before she was born) was killed on July 21st in battle around Mondeville, south of Caen only two weeks after landing in Normandy. He was a private with The Queen's Own Cameron Highlanders of Canada.  Robin did a great job of researching and tracing Philip's steps from Juno beach to the area where he was killed. We visited the various locations where his battalion engaged the Germans in battle, including the location where he died. Robin was very well prepared with battle maps and was able to obtain transcripts of radio communications by Philip's battalion on the day he was killed which gave a blow by blow account of the battle. You could close your eyes and almost imagine the terror of being in this situation. We finished our tour at the Bretteville-sur-Laize  Canadian War Cemetery near Caen where Robin located Philip's gravestone. We placed a small Canadian flag and some flowers near his gravestone and Robin read a poem. It was a very moving experience for us, even though we had never met Philip.
I have no hesitation in recommending your company and Jim and Robin as great guides for those wishing to visit WWI and WWII battlefields and memorials with a focus on the Canadian and Commonwealth wartime experience.
David & Michelle Mydske, West Vancouver, BC
---
Gary and Jim,
I wanted to thank you for an incredible day. The tour exceeded all expectations. Jim did an amazing job of blending general history, local history, and specific family history which put our personal family's loss into exceptional context. It was also excellent to have long held perceptions of history accurately corrected and updated to actual facts.
Everything from the hotel recommendation, the timing, the length of time at each stop was about as perfect as I could have asked for. We especially appreciated the stopping at various landmarks to match with the battle maps, and to connect the history with the current day.
The knowledge level that Jim displayed was amazing, and it was also great to get local context on a number of current day issues.
Please let me know what else I can do to help you use the above or other testimonials for your business.
Clint Mahlman, CEO London Drugs, Richmond, BC
---
Hi Gary – the day with Robin was more than expected, and he was an extraordinary host. We are still travelling and have limited WiFi, but I will be sure to write appropriate reviews when we get back. We thank you, and Robin, for a memorable day.
Christina Bornstein and Wayne, Waterloo, Ontario
---
Hello Gary,
I want to thank Jon and Robin for the phenomenal tours that Alex and I had this summer. We loved every minute of it. These two men are incredible guides and I have only great things to say about both of them.
Jon knows everything there is to know about WW1 and explains it so well. He provided detailed explanations of everything, let us take our time at the things that captured our attention and was attentive to us. My grandfather, who died before I was born, had fought in WW 1; neither my Mom nor I knew much about his service other than his battalion number and that he was injured in France. Jon researched his military records ahead of time, intertwined the role his battalion played at various points of interest and ultimately drove us to the field that he would have been shot it, which was a very sobering experience.
We now have a huge appreciation of the conditions that the soldiers lived in, what the reality of war and in the trenches really was and the role of our Canadian soldiers, many of them teenagers and young men the age of my sons who were sent to battle armed with only rifles and courage.
Jon also humoured our other passion- agriculture – with some quick stops for pictures at implement dealerships, in corn fields and of combines harvesting.
Robin lives and breathes the Battle of Normandy. Clearly this is his passion and he skillfully wove a story of the events leading up to D-Day, the landings and the aftermath. He produced maps, articles and props and a take home booklet personalized for our tour that helped us to better understand what we were visiting. We had some stops on our tour that anyone touring the area themselves would not know about but he highlighted the huge significance they had in World War 2 and by the end of our four days with him, all the parts came together.
Robin left us with a sense of the logistics and strategies of these battles. The magnitude of the undertaking was massive but seeing and hearing the stories from Robin gave us a much better appreciation of that.
Both Jon and Robin were able to supplement my son's good knowledge of Canadian military history and present things that he didn't know or make connections that he hadn't realized. My Canadian military historical knowledge is not very thorough but they were both able to cater to my level of understanding, too. We both came away with a very different perspective of both wars and proud of Canada's role in them.
We are so happy that you were able to accommodate our schedule and fit us in this summer. Thank you again for letting me enjoy this experience with my son. We had a great holiday together and loved that we were busy and learning every day of it.
Jon and Robin – thank you so much. I hope our paths cross again.
Thanks.
Coralee & Alex Foster, Mitchell, Ontario
---
Hi Gary
I thought John did a great job of taking us through the tour. He was well researched on our Uncle Jim's service, I believe in part because we provided him with the 75 pages of service record from Ottawa. Also he did a good bit of research through the Canadian War Dairies to determine where Jim was and where he sustained his wounds. John was barraged by my brother Scott throughout our tour and I thought did a splendid job of answering all our questions. Although I think he was happy to see the last of us as we exhausted him through our many inquiries.
Jamie, Scott & Fraser McTavish, Vancouver, BC & Markham, Ontario
** The McTavish Bros. took a WWI pilgrimage tour
---
Hi Gary,
Jim was awesome! He is very knowledgeable and so passionate about WW1 that it was infectious. I learned so many details about WW1, along with some of the war heroes and the Commonwealth War Graves Commission that I wish I wrote it all down.
The tour was amazing (mentally exhausting by the end) but amazing!
I got to see so many things that I wouldn't have if I had rented a car and tried to do a tour on my own.
Anyone with a relative who served in WW1 or WW2 should definitely do one of your tours. The only thing I wish I had vocalized was to spend more time in some of the Memorial Centres that we visited.
Because of the tour and the information that I learned from Jim; once I returned to Canada I delved into more WW1 research and discovered that I had another relative who fought in WW1 (if you'd like to let Jim know you're more than welcome to). It was my Great-Grandfather on my father's side of the family.
This is some of the information I was able to gather from the records on file:
Pte. Henry Fear- Born February 26, 1871 and died April 22, 1919.
Enlisted on Feb. 4, 1915 in Cardston, Alberta
13362, 13 Battalion, CMR 87285 & 20 Battalion, 5th Brigade, CFA CEF, Gnr.
He served in France from January 19, 1916 to February 10, 1917.
He was discharged on December 31, 1917 – Class "E" with Carcinoma and overage sciatica on his records.
He died of Esophageal Cancer in a Calgary hospital and is buried in the Union Cemetery in Calgary.
Also; please inform Jim that the rusted war shrapnel "relics" that I picked up on the road beside a farmer's field in France did make it back home with me! – He will get a giggle out of that as he was sure they wouldn't make it through customs at the airport. Truth is – they didn't even bother me!
Thanks again!
Kerry Gillespie, Calgary, Alberta
**Kerry took a pilgrimage tour
---
Hi Gary
Just settling into our regular lives now that the 3 week trip is over. After we left Gianni and Italy, Robert and I toured France, Belgium, the Netherlands and UK for 2 weeks.
Robert and I would both say that our tour went well above expectations. Gianni was a wonderful, knowledgeable and considerate host, with amazing knowledge and network of acquaintances whom we connected with throughout the trip. Gianni went to great lengths to ensure that the trip was meeting our expectations, that our questions were answered and that we fully engaged.
We were able to gain a much greater understanding of the conflict than we would have had just through our readings. Gianni made sure that we had a visual understanding of the layout of the conflict, how events unfolded and the touring of the towns, especially in relation to pictures of the time.
On the issues of details, the hotel we stayed in was great for being a central location and the meals very good. Lunches were exceptional while we were on the road and his car was very comfortable to tour in. We have nothing but high praise for everything!
Overall, nothing but positive reviews for the tour and Gianni. Everything exceeded expectations and the trip I gave my son was 5 star in every way.
Thank you again for everything.
Peter & Robert Silk, Etobicoke, Ontario
---
Hi Gary,
Both tours were of the highest quality and definitely met our expectations. In particular, we both want to especially commend Jim Smithson for his first rate WW1 tour. The quality and detail of Jim's research, especially as it applied to both of our great uncles, was extremely impressive. We were astonished and impressed with Jim's ability to read trench maps and then show us with a great degree of precision where the various trench lines were on today's landscape. With respect to Joanne's great uncle, James Fisk, Jim not only was able to take us to his current grave (something which was quite moving for both of us), but he was also able to show us the approximate location of his original grave before he was moved to the current cemetery. The tour was thorough, informative and meaningful. In addition, we greatly enjoyed Jim's company. He is a true gentleman and a fantastic host. Indeed, on one of the tour days when the initial plan for a lunch break locale didn't work, Jim very graciously hosted us in his own home – very kind of him.
A trip to visit the WWI & II battle sights in France had been on my bucket list for a long time, much more so for myself than Joanne. That said, we can both say that the tours were the highlight of our trip to France and Belgium. I would not hesitate to recommend your company to anyone interested in such a trip (in fact, I already have).
Thanks so much Gary,
Gord Haight & Joanne Durant, Calgary, Alberta
**Gord & Joanne took a pilgrimage tour WWI & WWII
---
Hi Gary,
I was part of the battlefield tour earlier this month with Bob and Jane Cooke, and our guide, Andy Robertshaw.
I found this to be a very informative and interesting three days. Andy really knows his stuff, and how to tell those stories in an interesting way. His background in archaeological research gave his observations on the war a great deal of additional insight. His experience with film and television was an added benefit, and of particular interest to me, since my background is TV news. He tailored the trip to our Canadian interests, but showed us some other sites as well, such as a German cemetery, and a Commonwealth one with one solitary cross outside the main grounds. When I mentioned seeing a picture of what appeared to be a very impressive South African memorial, he worked that into the tour. He also found us a couple of good places to eat, including the Ocean Villa Tea Rooms, with its own tributes to the soldiers.
One of the most memorable places for me wasn't even from the Great War. It was the Mur des Fusillés in Arras, where resistance fighters were executed by the Nazis. One of my original requests or suggestions about this visit was that perhaps some Second World War sites of interest could be worked in if possible, so this is something I really appreciated.
I found Andy was willing and able to answer our many questions. And he didn't mind me questioning him on the odd point, replying with respect while bringing his extensive knowledge to bear. I should add as a side-note that I have something of a penchant for collecting jokes and funny stories, and I was very pleased to discover that Andy does too, so we had some fun there as well.
The only place I would leave off any future Canadian tours would be the Hill 70 memorial. It commemorates an important battle, but I found it very disappointing. Not Andy's fault, of course! I would also say that three days was probably enough. After a while, you get a bit overwhelmed by the sight of so many headstones, and the dates and place names start to blur. But seeing Vimy and Beaumont-Hamel and the many other sites is something I have wanted to do for years, so I am very pleased with the way this went.
When we booked this tour, I was a little concerned about the cost, thinking that we could probably find a lot of these places by ourselves, but now I consider it money well spent.
Please feel free to share these comments with Andy.
Thanks,
John Borley, Toronto, Ontario
---
Hi Gary,
We had an absolutely amazing tour with Berry. Yvonne joined us for the second day. I am tearful as I look back on our journey. It couldn't have been better. We loved Berry and Yvonne for their passion for war history and especially for their love for Canadian veterans. Between Berry's thorough research and my father's memoirs, we rewrote a powerful and poignant story of a portion of his time on the battlefields. At one point, I read a passage from my dad's memoirs and 10 minutes later we were standing on the little bridge, where the event my father had described took place, and were hearing Berry tell same story from another perspective. We learned so much and feel very blessed to share what for me was a very sacred journey with two people who cared so deeply about sharing it with us.
Berry and Yvonne are very kind, generous, and special people.
Thank you Gary for arranging our wonderful tour. It was everything you said it would be.
Warm regards,
Brenda & Eric Forster, Kelowna, British Columbia
**Brenda and Eric took a pilgrimage tour following her fathers service. (First Hussars "C" squadron)
---
Robin/Gary:
Just a quick note to thank you for the tour. I've had time now to review the war diaries and photo's that Robin provided for us and will be sending copies to my sister and brother in law as well.
Robin did some excellent and deep research into the South Alberta's and consequently was able to take us exactly to the locations of where "C" squadron and John Barnett would have been during August of 1944. The planning and level of detail made the trip more than worthwhile.
Thank you again for the good work.
Todd Lemieux, Nanton, AB
** Todd and his family of 6 took a pilgrimage tour, following the South Alberta Regiment.
---
Hi Gary,
Firstly, we wanted to thank you for the tour, we were quite happy with everything.  John was very knowledgeable and provided excellent opportunities to experience the many different aspects of the conflict.  Being able to see the French memorial at Notre Dame de Lorette, or the Langemark German cemetery provided perspective that we were not likely to get with some other tours. John also was kind enough to order up some glorious weather to enjoy the tour.
When we spoke to John about what we wanted to achieve during the tour, we stated that we wanted to visit some less travelled memorials and he managed to find some excellent locations.
Again, thank you for everything, and please pass along our thanks to John.
Dawn and Joe Barbosa, London, ON
---
Gary,
The tours with Robin and Jon were excellent and met all of my expectations. Both guides were extremely knowledgeable and passionate about their respective areas of expertise. I was very pleased with the requested focus on Canadian contributions to the battlefields and war efforts of WWI and WWII. Both guides were also flexible enough to incorporate visits to sites that I showed secondary interest in during the tour (e.g., Omaha beach and a WWI Portuguese war cemetery). Robin's researched storytelling approach to site visits was quite unique and provided me with some of the most poignant moments of my 5-day tour. Jon was a walking WWI encyclopedia and was able to answer all of the questions my curiosity could muster, including some I forgot to ask Robin in the first leg!
Thanks again to you and your guides for accommodating me on what I now certainly appreciate was short notice for such a customized experience. The trip provided me with memories that I will recount and reflect on for a lifetime.
David Catarino, Oakville, ON
**David took a shortened 5 day Canadians Choice Tour.
---
Hello Gary,
Our experience with Jim, without a doubt, exceeded our expectations. He was personable, organized, well-prepared and knowledgeable.
Each day, Jim arrived at the set time and off we'd go to battlefields, memorials and military cemeteries. The days were full, but well-paced with pleasant stops for lunch
Every excursion was augmented by maps past and present, historic photos and other materials.
Jim's passion and sincerity when speaking about WWI and WWII, the experiences and sacrifices of those involved and respect for the fallen are especially noteworthy.
We not only learned details, but also gained a deep appreciation for all sides of these gruesome conflicts.
David and I really appreciated the added effort to provide more background concerning my grandfather's and great-uncle's military service. Visiting my great-uncle's burial site and the location where he was fatally injured was especially poignant.
Brenda & David Barry, Toronto, ON
**Brenda & David and another couple took our most popular 8 day Canadians Choice Tour
---
Gary,
We were very well impressed with the tour Jim gave us. We came with three different levels of knowledge and he was able to make it so we all got something from each stop. I know what a challenge that can be. Jim went above and beyond keeping up on where the crowds would be and helping us avoid them.
Megan Nagtegaal, Burnaby, BC Canada
** Megan's group took a Normandy tour June 2-5. Jim did a splendid job of stick handling around the events leading up to D-Day 75 on June 6, 2019.
---
Hi Gary,
Our two days with Richard were absolutely perfect, exceeded any expectations we could possibly have. What a wonderful, personable, knowledgeable, compassionate man!  It was an amazing, educational and emotional two days!
From the moment Richard picked us up in Arras we felt as if we had always known him. Our goal was to visit the graves of four family members. He made our time at each cemetery very personal and explained what would have happened in each battle. He also explained the recovery process and the medical evacuation of one of our uncles. After walking through these cemeteries he pointed out how lucky we were to have actual graves to visit as so many stones are marked Known Only to God.
We not only visited the four cemeteries but Richard was able to fit in so much more. His account of all that had gone on during the Great War was hard to believe as we drove through the beautiful country roads of France and Belgium. I read about the Christmas Truce to my students every year and much to my surprise there we were at the site it had taken place. We laughed that we felt we were suffering shell shock from information overload.
There has not been a day since our trip we have not talked about our days on the battlefields with Richard. I so look forward to sharing my photos and all we experienced there. If there was one thing I regret is we didn't stay longer in the area to see more. This is a trip everyone should make if they have the opportunity.
Thank you so much for organizing this!
Kim MacKenzie, Pipestone, MB Canada
** WWI Pilgrimage Tour
---
Hi Gary,
We very much enjoyed our Normandy tour with Robin. It was a full day full of stories which made D-Day come alive. The Canadian cemetery was the most moving spot we visited.  Robin is very well informed and obviously passionate about making history come alive. We learned a great deal more than most tourists would from our day with him.
Bev Noble & Brian Field, Lucan (Komoka), ON Canada
---
Hi Gary,
The tour went very well. Our guide, Alessandro Campagna, was very knowledgeable about everything involving the Canadian campaign in Italy. He was also very enthusiastic, friendly, and a gracious host. He took us to several Canadian memorials in the Cassino/Liri Valley area and explained their history. He took us to a museum dedicated to the Canadian army, very interesting. He showed us maps indicating the areas of Canadian advances in May 1944, and how that tied in with allied efforts. We also visited the war cemetery at Cassino, very impressive and touching.
He also took great effort to put special focus on the areas and points of interest that specifically involved where my Dad would have been with his regiment. I was very impressed by that. I truly feel it gave me a closer connection to what my Dad would have experienced, and where he was.
I also have to say it was touching to get such a warm welcome from the locals that Allesandro introduced us to, due to the fact that we are Canadian.  We enjoyed the entire day with Alessandro, and I have to say it was the highlight of our vacation in Italy.
Thank you for setting up the tour.
Dwaine Balak, Regina, SK Canada
** Italian Pilgrimage Tour
---
Hi Gary,
Great day with Robert. He really set it up well and gave us the tour we wanted plus. Would recommend CBT and Robert highly.
Glen Wright, Mississauga, ON Canada 
** Glen and his family took a Scheldt tour following the SSR (South Sasks)
---
Dana Johnston's review
WWII Normandy- Bayeux, France
Robin met us at the hotel as promised at approximately the time promised despite construction in the area resulting in traffic diversions. Following introductions, he led us to a comfortable seven passenger van. As he drove, he explained his plans for the day and the results of research he had done specific to the movements of the 105th Battery of the 3rd Canadian Anti-tank Regiment during the battle of Normandy. His explanations and information was delivered enthusiastically and in language that everyone in the group could understand. He was patient when answering questions and a pleasure to spend time with.
At each stop during the day he used maps mounted on cardboard as well as photos to explain -the movements and challenges of the Canadian forces engaged in the area. He recounted stories from soldiers' diaries to make the experience more personal and, wherever possible, included information specific to the movements of the 105th Battery and/or the 3rd Regiment.
Robin did an impressive amount of preparation for our tour. He was obviously knowledgeable and passionate about the subject. He was patient, professional and personable in all aspects of the tour. At the end of the tour he provided a substantial amount of written material specific to the topics he'd presented throughout the day as well as several book titles we could read to explore further. I would rate this tour and Robin as excellent.
WWI – Arras, France
John met us at the hotel as promised in his emails. His vehicle for the tour was a sedan which meant that the three people in the backseat were a bit cozy.
Following introductions and while driving to the first site John explained his plans for the day and recounted some of the stops he anticipated. He was flexible in the actual order and timing of the stops to ensure we had access to memorials (e.g. timing for an English language tour at the Vimy Memorial required that he re-sequence some of the stops). John used a map on the wall at the Canadian Cemetery at Vimy to provide one of the best abbreviated descriptions of the causes and conduct of WW 1 that I have ever heard; clear, concise and easily understood.
John made sure that our needs were being met in which sites he showed us. The sites he chose nicely illustrated the Canadian role in the war and were effective in helping us all better understand the challenges, horrors and successes of the war.
I would rate this tour and John as a tour guide as very good.
Gary, I was very pleased with the service provided by Canadian Battlefield Tours and your choice of tour guides for us. Your efforts, and the efforts of Robin and John are much appreciated.
Ralph Lewis's concurrent review
This is great, thank you, Dana! We agree on essentially all points you make
I felt that the presentation that John made at the map at the memorial made up for the small differences otherwise noted, and i would have rated both presentations as very, very good. I feel that our money was well spent. Both tours, in their own way, were highlights of our trip to Europe.
Thanks Dana, Robin, John and Gary!
M/M Dana Johnston, Langley, BC
M/M Ralph Lewis, Fredericton, NB
** Dana, Ralph and their wives were following in the footsteps of relatives in WWI & WWII.
---
Hi Gary,
First… the Normandy tour. Robin was outstanding. He was engaging and enthusiastic, as well as knowledgeable. Robin brought documents, maps and photos to amplify his explanations. This was really helpful. After the tour, he gave us copies of a number of his papers for us to take, and to read at our leisure after the tour. One the best aspects of Robin's delivery is the way he was able to personalize the events, by drawing on the stories of heroic acts by Allied soldiers and members of the French resistance. It was brilliant, and he had all the time in the world to spend to help us better understand and appreciate D-day events. Robin also provided directions which were instrumental to getting us to the Dieppe battle site… I don't think we would have found it without his help.
Jon Haslock was also excellent. As we waited to tour the trenches at the Canadian museum in Vimy, Jon gave us a succinct outline of the circumstances leading to what's now called WWI. Jon also took us to his restaurant/museum which was very pleasant and allowed him to show us artifacts from the conflicts that he's collected at his shop. During the day we visited the Vimy memorial, the Newfoundland memorial at Beaumont-Hamel, and a number field sites and cemeteries in the area.
In sum, both guides were excellent. I particularly enjoyed Robin's tour, and his efforts to provide us with information we could view during the visit, and material we could take home with us.
All this said, both of our tours were rich experiences that we won't forget. Many thanks for setting this up for us.
Sincerely,
Peter Cameron & Brenda Reid, Ottawa, Ontario
---
Hi Gary,
Jane and I thoroughly enjoyed the 3 day World War I tour last week. The tour guide you arranged, Jim, was very knowledgeable on the area and the subject. He customized the trip for us to focus on the Canadian role in WW1, which is what we were interested in.
Jim also did additional research for us and identified cemeteries where two of my relatives were buried. He then worked these two cemeteries into the schedule so we could visit them in the context of the battles they fought in. It was a humbling and moving tour, made personal by finding my two relatives.
We enjoyed our Canadian Battlefields tour and would highly recommend Jim as a guide for anyone interested in doing a similar tour.
Regards,
Rob & Jane Carrs, Calgary, Alberta
---
Hi Gary,
Our Canadian Battlefields Tour exceeded our expectations.  Jim Smithson, our guide, was outstanding. We would rate him as our best tour guide ever.  He is a historian with an in depth knowledge and understanding of the history of Canadian WWI battlefields. Jim took us on a personal tour of the Canadian battlefields at Vimy Ridge and Passchendaele where my wife's father participated and described the conditions, the Canadian battlefield strategy and what happened in each battle. Jim researched the battlefield actions of her father's company and showed us the military maps and documentation.  Jim also gave us a first hand look at the specific area in the Passchendaele battlefield (now a farmer's field) where he was wounded. He showed us copies of the military reports, battle plans and casualty lists that allowed us to personally follow his footsteps in WWi.  Jim's vast knowledge of the cemeteries, and the soldiers who are buried there helped our understanding and appreciation of their sacrifice in WWI.
Jim ran our tour without a hitch. He picked us up promptly each day and drove us to the Canadian battlefields and cemetery locations, some of which were small and would have been impossible for us to find on our own. While we were visiting some of the smaller Canadian WWI cemeteries we met other Canadians who were there on their own in remembrance of the 100th anniversary of a fallen relative. Jim explained the burial rites followed during and after the war and helped our fellow Canadians better understand their relatives final resting place. We were thankful and very pleased  that Jim so graciously shared his knowledge and understanding in such a kind and compassionate way.
Would highly recommend CBT and your guide.
Paul & Judy Sandulak, Sherwood Park, Alberta
---
Hi Gary,
We are flying home at the moment and are taking the opportunity to send a few words about our tour.
To summarize, the tour fully met our expectations and in the case of our time with Robert Catsburg in the Scheldt area, exceeded them.
Notwithstanding that we had done research on our own we could not possibly have put together the tours we had with your guides. There is no substitute for local knowledge and the on the ground research that each guide did in relation to "Major Tom" and the Royal Regiment.
All three without fail did what they said they would do. They were very good at reading us and pacing the tour appropriately. All were strong at developing a good personal relationship with us and were pleasant companions. All had "done their homework". Of particular note is the depth of Robert's scholarship and indeed passion for his subject.
We were happy we never had to drive.  It would not have been as good an experience for us had we had to drive. Mark drove our car.  Robert and Berry drove theirs.
In addition your suggestions for accommodation were good. We enjoyed the Hotel Bayeux, Tulip Inn and LOVED the Villa Rozenhof. We were spoiled by Berry and Yvonne at the Mondani. Anita at the Villa packed us a breakfast for our early flight from Amsterdam to LHR which lasted for three days!
We chose CBT as a result of a recommendation by our friend Bob Lucas. We would not hesitate to recommend CBT to others.
All the very best,
Anna Whitley and Fred Blair, Ottawa, Ontario
Note: This was a pilgrimage tour for Anna, who followed her fathers footsteps through Normandy, the Scheldt and the Liberation of Holland. Her father was Maj.Tom Whitley, with the Royal Regiment of Canada. He was written about extensively in George Blackburn's books- The Guns of Normandy & The Guns of Victory.
---
Dear Gary,
I cannot reiterate enough how our tour exceeded all expectations. Jim was exactly the right choice for our wants and needs. At times, we almost felt we were in the battles that our fathers fought!  His skills as a guide were exemplary. It was obvious that his research regarding our individual fathers was extensive and we were pleased to receive copies of that information at the end of the tour. I will highly recommend your tour company without reservation. I might add that the personalized tour was the way to go for us. It certainly eliminated the areas that our fathers never fought in and therefore not pertinent for us. Thank you for helping to guide us through this very emotional but totally rewarding experience.
Barbara Scott & Ruth Taylor, Windsor, Nova Scotia
Note: Barb & Ruth took our WWI Tour
---
Hi Gary,
Thanks for contacting me about the trip.  My sister and I both agreed that it far exceeded our expectations.  It was clearly  customized to our requests – all of them. There was nothing generic about it.  Jim has an inexhaustible depth of knowledge and also an ability to organize the places we visited and the information he presented, in a very coherent way. He also inquired to see what we needed to help us understand.  I particularly wanted to understand the landscape  with respect to the various battles.   At every stop he anchored our discussions with excellent maps and he also kept us updated about our position while we were traveling. It was very satisfying. He never rushed us and answered every question. Whenever he provided perspective he also provided the reasons for his comments. That was also very reassuring. He was  a very well read and informative guide.
The logistics of the trip were slick and well planned. There was no fuss about anything and we were never rushed  and yet there were always timely stops for food and loos.
You mentioned that, given our interests,  we probably could not do better for a guide. I agree.
I will highly recommend your company and Jim Smithson.
Patricia Hunt, Winnipeg, Manitoba
Note: Pat & her sister took our WWI Tour
---
Hi Gary,
The tour with Jim (Canadian Battlefield Tours) was simply outstanding. It definitely exceeded any expectations we may have had. Jim provided an itinerary before hand detailing the tour timetable, more importantly, it was his in-depth knowledge of the historical facts and local geography which made the 3 days so memorable. He is a very likeable person, which made the travels quite enjoyable. We learned and witnessed so much. The sight of so many thousands of young people etched on graves and the walls will be us with forever. Jim personalized my Grandfather's days around St Julian in April, 1915. Actually being in the area was moving. I really appreciated the background & the notes of those particular days. The Menin Gate ceremony stood out as one of many highlights. There was the live shell we came across next to a field or the recent burial of 4 Canadians from Hill 70. Would we recommend CBT… absolutely, no hesitation. My wife even suggested a WW2 tour in the future.
Thank you again & please thank Jim.
Bruce & Glenda Hayzelden, Calgary, AB
---
Gary,
The trip was all I expected and more. Ken was very knowledgeable and we had four great days together. I could not recommend him higher than I do. Four days was the right time for me. I would also tell anyone that intended tp go that to do so without a guide would be folly. Finding the places, let alone describing what happened at them, would be impossible.
Regards,
Warren Mitchell, Vancouver, BC
Note: Warren took our WWI Tour
---
Hi Gary,
Connie and I had a great time on the Canadian Battlefields tour.  Our guide was not only friendly and fun to be around, he was also an encyclopedia of knowledge. In fact, his depth of knowledge, and his ability to tell the stories in an engaging manner, made this tour extra special.  The added bonus? Sitting in the only Canadian Legion in Holland having dinner with his family.  We felt so very special.
Sincerely,
Don & Connie Campbell, Vancouver, BC
---
Hi Gary,
We just got home yesterday and was about to send you a short note about our experience with your company.  Our two tours were great. Our WWI guide JOHN… was exceptional!!  We enjoyed his company immensely. John was so courteous and mindful about my condition (I'm in pain waiting for a hip replacement) and drove ever so careful over speed bumps and pot holes… and took the curvy roads in a very careful way as not to add to my discomfort. He was the best guide we have ever had in all of our travels. We will recommend your company and John to our friends who plan to do the same trip we just did.
Our Normandy guide ROBIN was extremely knowledgeable and did a good job informing us on everything.
When you talk to John…. can you tell him hello for us…
Thank you for everything!
Valerie & Henry Strong, Vancouver, BC
---
Now we're back from our battlefield tour, thought I'd drop you a line. The Normandy part of the tour was exceptional with Robin, he brings so much energy and pride to his tour. He gives a broad view of certain battles, but will focus on the individual stories, as he says " his-story". At the end of each 10 hour day he gives you a folder with all the information of the many topics covered that day. My dad and I were blown away.
The World War One portion with Jon was also very professional. He has very in depth knowledge of all the specific battles and weaponry. It never failed, every time we walked near a farmers field there was some form of war debris, including a couple of unexploded shells.
All in all a great memorable experience.
Jeff Pentecost, 
Burnaby & Vancouver, BC
Note: Jeff and his father took our Canadians Choice Tour
---
Hi Gary,
The tour was amazing, far beyond our expectations!!! Andrew and I so enjoyed our time with Robin touring the WW2 battlefields and memorial sites. Today, Andrew and I started our "break day" with a visit to the Bayeux Tapestry, then we went to Dieppe and visited the Canadian War Museum to honour a great uncle of one of Andrew's close friends. His grandfather, brother of his great uncle also served in WW2 after his brother, but is still alive (late 90's now) and lives at the Veterans Retirement Residence at Sunnybrook Hospital in Toronto.
Andrew and I were so excited to be able to take this trip/journey together, and extremely grateful to you!! Thank you so very much for making this dream come true for us.
A huge thanks again for all your kind attention and amazing effort!!
Thanks for everything!!
Marianne & Andrew Guizzetti, Toronto, ON
Note: Marianne accompanied her 23 year old son Andrew on this tour. Andrew went through a cadet program and was part of the 48th Highlander regiment. He was part of the Pipes and Drums band at St. Andrew's College from grade 7 to grade 12, where he was Drum Major in his final year.
---
Hi Gary,
The tour greatly exceeded our expectations. We had an absolutely fantastic tour with Richard Porter. It was a truly moving experience, especially the last day, during which he took us to the Somme area, where both my grandfathers were. Knowing their battalion number and regiment, he was able to pinpoint their exact location and movements. It was incredible. We will be talking about this vacation for a long time.
Will heartily recommend your firm to anyone. Thank you so much!!
Dr. Patricia Cairns, Toronto, ON
---
Hello Gary:
The eight-day Canadians Choice Tour tour exceeded my expectations. Your guide Jim Smithson has a passion for and an encyclopedic knowledge of both WW II Normandy and the Western Front of WW I.  I was especially interested in sites associated with Canada.  He took me to many.
Special was the "personal touch."  Jim is a "keeper."  I'd score him 10  / 10 ++!!
I provided guide Jim with Normandy information on my father's WW II regiment.  His research located two sites where my father had been shortly after D-Day: rebuilding a very damaged airport, and building a Bailey bridge (both near Caen).  We went there!
On the Western Front I mentioned a young man from Chilliwack (near to where I live) who had received the Victoria Cross.  Jim quickly located both the cemetery and the grave site of Piper James Richardson.  We went there! I also mentioned to him Filip Konoval, the only Ukrainian-born recipient of the Victoria Cross.  [I am of Ukrainian heritage.]  There is a memorial near Hill 70 (not far from the Vimy Memorial), the site of his bravery, where there is now a "Konoval Walk."  We went there!
It would be remiss of me not to mention the following:  Jim kindly drove me from Bayeux (our centre for WW II travels) -to- Arras (our centre for WW I tours).  [Not part of the original understanding.  I was expected to make my own travel arrangements between the  two areas.  Above and beyond!!
He was invaluable in arranging my post-tour travel to Brussels, and he booked my accommodation in Brussels using his own personal booking.com account and credit card to confirm the reservation.  [I of course provided the hotel with my card upon arrival.]
Disclosure:  He did so because of two complications in my situation.  Firstly, I am a bit of a Techno-Idiot.  And secondly, I was pickpocketed in the first hour of my arrival in Paris.  Arranging for an emergency replacement credit card (and other documents) turned out to be a bit of a chaotic nightmare.  He recognized (and was sensitive to) my somewhat difficult situation, and he was a wonderful help.
Gord Yakimow, Abbotsford, BC
---
Hello Gary!
Thank you for being our conduit to a wonderful educational experience. We met Andy at the train station in Arras and soon learned that we had the best tour guide possible. Andy is a wealth of knowledge and a great personality. After some brief planning and coffee at a local restaurant, we decided to take our journey south toward a number of Commonwealth Cemeteries, which included visits to Sere Road Cemetery No. 2, the Newfoundland Cemetery and of course the Bouchoir New British Cemetery where Gwyn's uncle is buried.
We travelled back to Arras for lunch, then during the afternoon we spent some time at Vimy Ridge Memorial and walked the grounds. We finished off with a visit to a German Cemetery nearby. I give your guide Andy Robertshaw top marks. Could not have been better. Gwyn and I are completely satisfied with this CBT experience, which we will recommend.
Syd & Gwyn Perkins, Tofield, Alberta
---
Hi Gary,
Mike was excellent!! Our tour experience was educational and enjoyable. We couldn't have gained so much from the experience had we attempted it on our own. Mike was very accommodating and flexible to meet our needs. Mike is an excellent story teller and brought history to life. His car was comfortable and he was prompt in his arrival each day.
Thanks so much for a tremendous experience!!
Deborah Viel, Yarmouth, Nova Scotia
---
I thought I would let you know that the three days with Andy Robertshaw went great! He is extremely knowledgeable besides being fun to be around. The entire family enjoyed his company. He gave us new information and perspective on my Uncle Stuart Siddons's military service that I had not expected.
I would be happy to give a recommendation to any of your, or his potential clients.
All the best.
Bill Boyd, Marina del Rey, California, USA
---
First, both Mark and Jim were absolutely amazing. Both were engaging, knew their stuff and provided great context. We had interesting conversations about many topics, not just the tour. Given the impact this has had on both Jason and myself, how your guides do this on a regular basis and not ball up into a fetal position is amazing. We would recommend both highly. I still owe both thank you notes.
Second, while both my son and I are history buffs and thought we knew what to expect, the sheer scale, large and small, took us back. Normandy was interesting and meaningful, I cannot think of a better word for the Western front than intense. The number of cemeteries, headstones for unknown soldiers and memorials for "lost" soldiers was just overwhelming. While Jim, and Mark, both did great jobs in proving some breaks, and having discussions, typically when eating or driving to lighten the mood, in hindsight I am not sure I would have done both back to back like we did. It was not that we became numb near the end, the enormity of the sacrifice made really hit home, I think we were just overwhelmed and as I say, both Jason and I are still processing.
We both thought the experience was very worthwhile and I believe we have come away changed. I now have an exceedingly deeper appreciation of what "thank you for your service" really means. We both believe it was a fabulous and worthwhile experience, but fun and relaxing are not two words either of us would use to describe the experience.
Not sure what you could do to give a heads up, like I said, based on my education (I have a major in history with a focus on Canada in the the twentieth century with a focus on Canada in the cold war, immediately post WWII) and I understood in intellectual terms what I was doing, but I really was not ready for the emotional impact of the Menin Gate, International Memorial of Notre Dame de Lorette (Jim indicated that there is some dispute around it, I found it possibly the most moving of all the memorials we saw) and of course Vimy, which I found somewhat serene.
The cemeteries were extremely interesting in the insight they provided to the different cultures (Commonwealth vs U.S. vs French vs. German). Also very emotional, especially the Commonwealth cemeteries with the quotes.
My one observation is that if I had driven like originally planned, given all the places and back roads Mark took us on, I think that would have significantly impacted the experience. I am glad Mark did the driving.
Therefore overall it was an amazing experience and one that will reside with me forever. I believe it gave both Jason and I an insight into the history and the sacrifices that were made for us that we could not have obtained any other way. Everything was done exceptionally well. both Jim and Mark were amazing and I cannot think of anything I would have changed.
All my comments are focused on how we could have been better prepared for the experience, and if I were to do it again, I probably would have taken a longer break between the two in order to regroup.
Once again, sorry for the delay in responding, I wanted to provide you with a thoughtful response.
Everything you and your team did was amazing and so a great thank you as it is something that my son and I will have that bonds us closer together for ever.
So to answer your question as to whether it exceeded my expectations, the answer has to be yes.
I would highly recommend your organization and team for anyone interested in such a tour (but I would do my best to prepare them for the unpreparable, being the emotional impact, which really is what these tours really need to be about).
Brent & Jason Moore, Toronto, Ontario
---
Our Devil's Brigade Tour went far beyond even our greatest expectations. Italy tour guide Gianni Blasi was so knowledgeable, accommodating and wonderful to be with. His in-depth knowledge and understanding of the Devil's Brigade's history, peppered with various anecdotes, made the tour so meaningful. As for the Franco – Italian Alps portion of the tour, French guide Roland Orengo led us on a 17 km hike to visit a battle site of great importance to us. It was his superb knowledge of the local terrain that allowed us to reach our destination. We never would have been able to get there without him. All in all, Canadian Battlefields Tours provided us with a once-in-a lifetime experience for which we will always be grateful.  And thanks so much for the time you put into it. It is a great package that should hopefully be enjoyed by many others in the future.
I would recommend your tour company to anybody without any hesitation whatsoever. Thank you again!
Brian Heller, Paul Mergler, Rocco Loccisano, Toronto, Ontario
(Brian's group did the Devil's Brigade Tour)
---
Gary,
I would be honoured to have this testimonial included about our Devils Brigade Tour.
I lost my father when I was twenty-five. He died at the age of fifty-six back in 1978. He was and continues to be a huge influence on me. He was a Lieutenant in the FSSF, 3rd Regiment. He left a leg on a path near Sospel, France. Finding the exact place where he was wounded in a quiet forest on the edge of a mountain in the Alps was profoundly moving. He had apparently crawled back to his men, ordering them to not come to his aid, thereby saving other lives as they found two more mines on the trail he had walked before stepping on the box mine.
He rarely talked about the war, maybe once a year but when he did I got the strong sense that those were the most profound days of his life. There was horror but there was also this overwhelming camaraderie that I could tell he missed.
Gianni and Roland brought those years back into focus. They made history come alive. Gianni showed me a fountain where they would have stopped to drink. He showed me a path outside a headquarters building where they would undoubtedly have walked. Roland showed me the path of my dad's last walk before being injured. I have been back in Canada about three weeks. I cannot stop thinking about our experience and the courage and sacrifice of these wonderful men.
A proud and grateful son.
Paul Mergler, Toronto, Ontario
Note: Paul's group did the Devil's Brigade Tour
---
Hi Gary,
The tours were great. Robert and Berry really know their stuff, and their enthusiasm for the whole thing was really impressive. It's quite humbling to see people from another country show such an interest in ours – its a real shame our education system doesn't teach our kids nearly enough about this stuff.
I will be in contact with both Robert and Berry to share with them some of the stuff I have from my grandfather, as they both expressed an interest in seeing it.
Thanks for helping to set that all up.
Keith Marion, Montreal, Quebec
Note: Keith's group did Liberation of Holland tours
---
Hi Gary,
Outstanding trip! We had such an unbelievable time and I owe you a tremendous debt of gratitude for having recommended Gianni and Roland (Sospel) to us. They were both just unbelievable.
Gianni was beyond excellent! We had an absolutely fabulous time with him. He is so knowledgeable, friendly, accommodating and entertaining. Two thumbs up!
Brian Heller, Toronto, Ontario
Note: Brian and 2 mates took our FSSF- Devils Brigade tour. They were retracing the steps of one of the groups father, who was an Officer with the FSSF and lost his leg at Sospel.
---
Dear Gary,
Did our tours meet our expectations – it is a definite that they met them.
Jon (WWI) was very good about including other things which were in the area of which we were travelling. I had no idea that the two cemeteries we visited would be so far apart considering that the Internet seemed to indicate that they were both at Calais. We did spend quite a bit of time in the car but Jon had a great store of info to pass onto us.
Jan (LOH) was totally prepared for us. We knew ahead our itinerary and he had lots to pass onto us when we finished the tour. He has given us more info about books and websites and I fully intend to follow these up when the gardening season is less demanding. I also look forward to reading his book.
I wasn't sure if we should have offered extra to Jan for the fact that he made an effort to accommodate our need for shopping. We needed some groceries as we could not do any shopping on Kings Day. Unfortunately our flight to Amsterdam was not made as planned. After missing our TO connection we were sent to Lisbon, Portugal which caused us to lose track of Dick's checked suitcase. Jon found us a store to buy him a clean top. It actually took until Munich on May 3rd that he was reunited with his luggage. Above and beyond this, Jan returned to our lunch place to collect my jacket which I foolishly left behind!!
If I was to learn that someone else was planning a trip to military cemeteries etcetera, I would certainly speak to them about using Canadian Battlefield Tours which, while they are quite expensive, do provide a really great service.
On a slightly different note, we were successful in getting all the way to Arras on April 29. It took a total of five trains from Zutphen, Holland. We were told we got the last tickets at Lille and they then closed the office. Apparently they had offered limited service that day. The Mercure Hotel proved to be very suitable especially the location, so thanks for that too.
Lois and Dick Dow, Wolselely, Saskatchewan
Note: Lois & Dick took a one-day Liberation of Holland tour; then a one-day WWI tour.
---
Hi Gary,
My dad and I were extremely pleased with our tour.  Jim did an exceptional job taking us through the various sites.  His preparation, in-depth knowledge and passion for the subject were clearly evident.  It was particularly poignant standing in the Dury Mill Cemetery and looking out over the fields, which hadn't changed much in the last 100 years, where my grandfather's battalion was advancing  and seeing the area where he was likely wounded.  All in all a very successful tour and we would highly recommend CBT and Jim as a guide.
Sean Craig, Petawawa, Ontario
---
Hi Gary,
The tour was just superb  – I can easily say that it exceeded expectations. Ken is a terrific guide – very talented at gearing the information to the client's level –  and Karen looked after us very well in the B&B.  The trains were on strike in France, so Ken ended up picking us up at the airport as well as dropping us off there, which was very good of him.  They ended up helping us sort out more family history (aside from my uncle John, killed at Mount Sorrel) – we discovered what my father had been up to in WWI as well – nothing to do with the Western Front – flying seaplanes doing anti U-boat patrols in the Channel. I had no idea.
So thank you so much for bearing with us with all the re-bookings, It was very much worth it from my point of view.
Dr. Rosemary Henderson, Charlottetown, PEI
---
Dear Gary,
Everything went well indeed and we really enjoyed Ken and his help in planning our days. Ken was at my hotel as arranged punctually in the morning. I thoroughly enjoyed working with Ken.  He was incredibly knowledgeable. He did not weigh me down with military strategy but always set the scene so beautifully filling in with a background of great interest to me.
Vimy was fascinating. The memorial so striking, the museum of great interest and we managed the trench visit as well. He was so obliging not to mind retracing our steps after lunch by going to the Somme. He suggested the Newfoundland museum and memorial and again set the background for me so beautifully. It was a superb recommendation that we should visit it.
Stopping at the Menin Gate was another moving experience and again Ken did a beautiful job setting the scene for us. Hugh so appreciated being with us and began to think about his father's god father who was killed in the First World War. Ken kindly tried to do a little research on the spot for Hugh but could not find anything. It was only back at the hotel later that evening that Hugh realized he had not given Ken the correct last name.
Our stop by the Essex Farm Cemetery and its connection with John McRae was fascinating. In fact our route took us past many cemeteries bringing to mind the numbers lost. We had appreciated being able to go into Ypres but we did not have time to visit the museum there. Instead Ken advised we save our time for the Passchendaele Experience which we did. It was indeed excellent.
Gary, thank you for introducing us to Ken and for the arrangements you made on our behalf. I realize I have only touched the surface. If I manage to return to Northern France, I shall certainly be in touch with you. Thank you for your effort in sharing this important history.
Hugh and Hally Siddons, Toronto, Ontario
---
Hello Gary,
Our tour with Ken greatly exceeded our expectations. His knowledge of the battlefields was outstanding and his presentation captivating. His ability to weave actual stories into the information brought what we were seeing to life. His enthusiasm and passion for the information he had to share was most evident. Ken clearly went out of his way to provide us with locations and specific information regarding the contributions of Herbert Kiernan and Horace Cooper and that was much appreciated. For myself, it was especially poignant to visit the grave of my grandfather and take a picture of him and his son(my dad) together in front of the gravestone. It felt like re-uniting my dad with his dad, who had died when my dad was only 8 years of age. That is a memory that I will always cherish.
In our 3 days we covered an incredible amount of battlefield history as Ken drove us throughout the countryside of France and Belgium and shared with us the progress of WWI.and a little of WWII. I know for Fred that the visit to Vimy Ridge was memorable and most appreciated. Ken was especially aware of allowing time for us to experience each site visited at our own pace. We were never rushed to move on to the next site. He had a miraculous way of giving us information and letting us wander. Then he would miraculously appear when he detected that someone might be looking for more information or explanation.  My husband, as did we all, came away with so much more information and understanding of the unspeakable horrors and sacrifices that WWI brought to the world. We can't say enough about this tour and especially our guide, Ken. His sense of humour was so much appreciated by these 4 crazy Canadians. He really did make this a most enjoyable 3 days and the highlight of our vacation.
In addition to our memorable tour of the battlefields, we had the opportunity to avail ourselves of the B&B and the wonderful and generous hospitality of Karen and Ken. We felt so at home and so pampered in their wonderful home. The meals were spectacular as Karen is an excellent chef as well as a thoughtful and generous host. We had many laughs over breakfast and dinner. It seemed like we were visiting with long time friends. After our long day 2, that ended with the ceremony at the Menin Gate, we arrived home to coffee and just baked cake served in front of the fireplace. In addition there were options for enhancing the coffee with Bailey's or a favoured selection of Scotch. Truly a special surprise! An indication of how Karen went out of her way to pamper 4 most appreciative "new friends".
In addition, I have to share that over breakfast on our last day, I shared with Ken that I had found another Kiernan listed as a casualty of WW!. I shared with him what I thought was the cemetery in which he was buried. My surprise of the day was when Ken drove up to Roclincourt Cemetery, read the information from the register, and lead me to Herman's grave stone. Now I will check with my family "historian" to check out the relationship to my grandfather.
Gary, we are so thankful that you arranged this tour with Ken. We could not have been any more appreciative of his kindness, knowledge and generosity as a guide. We understand that the B&B option is not always available so we are most thankful for this opportunity as well.
There aren't enough superlatives to share our enjoyment and memories of this experience.
Thank You!!!
Maureen and Gerald Borbridge, Calgary, Alberta
---
Hi Gary,
Thanks for contacting us post WWI tour.
This was a wonderful, informative and highly moving experience. We count ourselves as being highly fortunate to have had Ken as our guide and Karen to host us in their lovely home in Flers. Ken needs to be nominated for 'cat herder of the year'! He is congenial, a walking encyclopedia of information and went out of his way to personalize it for us by featuring a trip to our friend's grandfather's gravesite and to also help me understand where my grandfather' cousin served and was eventually wounded. Ken has a fine sense of timing and alters orders of sites and focus aspects as situations fluctuate. In a word he is stellar.
Karen is a wonderful hostess! We were made to feel at home immediately. Karen is wizard in the kitchen. Her breakfasts and dinners were fabulous. As a bonus this is one very good natured couple. We REALLY enjoyed their sense of humour!
I/we would highly recommend you and CANADIAN BATTLEFIELD TOURS and Ken as guide, and if the interested parties are REALLY lucky they might even get to meet Karen and be allowed to share her wonderful home.
Fred and Deanna Hunt, Calgary, Alberta
---
David & I have nothing but rave reviews for our WWI Tour and Ken & Karen – great historians, great hosts, off the charts! David & I had a great trip on the train to Amsterdam, and had a fabulous first day including evening dinner cruise – what an incredible city & people! I'm running on adrenaline now – need sleep.
Earl Walter & David Anholt (CBT repeat customers), Calgary, Alberta
---
Marilyn and myself (Jim) had the privilege of doing a Canadian Battlefield tour hosted by Gary and Dianne McKay and I must say it was a very enlightening and humbling experience. Gary and Dianne and their tour guides did an incredible job in explaining each venue we visited, from the beaches of Normandy to the Dieppe 75 anniversary commemoration and finally to the incredible WWI monuments in memories of the extreme sacrifices made by all those young men and women. This will be a trip that we will never forget, so from Marilyn and myself we would like to thank Gary and Di, Mark our incredible bus driver, John, Mark,Ken and Jon, our tour guides and all the people on the tour, it was an absolute blast!
Jim and Marilyn Abel, Stettler, Alberta
---
​​
Our trip was fantastic! I have a client that was inspired by my trip and have sent her your contact info and suggested she see if Ken if available.  Thanks to both of you.
Carolyn Best, Calgary, Alberta
---
I would like to express my gratitude to you for a great tour with your excellent guide John Moule. In a word, it was fantastic and exceeded my expectations. We covered the exploits of the Canadians from Juno beach, through their brutal encounters with 12th SS in Buron, Authie to Point 67, Verrieres Ridge and finishing with the destruction of the German armies at Falaise, with a visit to St Lambert-sur-Dives. Very few tour operators cover the inland battles, which is a pity, as it took the allies three months to break out of Normandy, which took great sacrifice, so I was very appreciative to be able to participate on Gary's two-day Canadian Experience tour.
We covered the route of Operation Totalise. Gary was very accommodating as I was traveling solo. Our guide John has an encyclopedic knowledge of the Normandy campaign, and took the time to patiently answer all our questions. I would have no hesitation in recommending this tour.
Ray Moroney, Belfast, Northern Ireland
---
Hi Gary,
I am just settling back in the UK and Frank/JR have returned to Canada over the weekend.
We all had a wonderful time on the Tour.  Our guide, Ken, was incredibly knowledgable and packed-in 3 distinct sites & many small excursions tailor-made to our requests.  I learned more on this tour (3 days in 2) on WW1 than my formal schooling of Canadian War History.  Frank, our resident war-historian, was suitably impressed with Ken's understanding of the theatres and campaigns – covering both Canadian and rest-of-world involvements.
We are very glad we chose Canadian BattleField Tours.
Many thanks [to Ken] for the memorable and once-in-a-lifetime opportunity.
John Broomhead, London, UK
---
Hi Gary,
We had a great tour with Jon. Saw more than expected and he is a book of details!!!  Very good experience.
Thank you.
Alan John & Marilyn Johnson, Toronto, Ontario
---
Hi Gary,
Our WWI Battlefield tour exceeded all our expectations.
Ken was a thoughtful and knowledgeable guide. I would recommend this trip / guiding experience to anyone. It is a very personal way to connect with history, even some very sad history.
Laurie Lupton, Richard & Val Joy, Toronto, Ontario
---
Hi Gary,
In a word, our WWI tour was spectacular! Ken was not only knowledgeable, but extremely personable and a great person to knock around with for the day. He helped lead us to the field where George T. Scroggie, our relative, was injured in battle and what his role would have been, as well as helping to fill in social historical details (a particular interest of mine!). It was all pretty incredible, and the bits and pieces of the story we have already sent back to Canada have excited everyone there; ditto for our day with Jon.
Jon also created a very special day for us, also helping to fill in the blanks of George T. Scroggie' movements – up to driving us down a narrow dirt road to get to as precise a point as possible to learn about George's company's involvement at the Somme. It was also a terrific tour and we learned so much.
This was a very special trip and we thank you, Ken and Jon for helping to make it happen.
I would highly recommend your Canadian Battlefield Tours. We were able to zero in on elements of the WW1 history in ways I'm sure a large tour bus tour could never do.
Thank you so much. We're very glad to have found your outfit.
Stacey J, Richard & Elizabeth J, Toronto, Ontario
---
Very nice testimonial from our first tour of the year- group of 21 students from the University of Guelph. Well done John and Maggie!
I just wanted to thank YOU again for being so responsive to this group of young students and thoughtful in how you ensured that they were at least somewhat prepared for the information coming at them intensively throughout the day by supplying the notes ahead of time. They thoroughly enjoyed the trip and have learned a lot "to chew on", not least because you were willing to address many of the grey and dark areas of this war. A big thank you to your wife as well: she, too, was very kind to prepare the lunches with care for allergies and religious preferences.
I shall certainly pass Canadian Battlefield Tours and your name on to whoever leads the group in 2019.
It is hard to imagine how the tour could have been improved.
Warm regards,
Marion Joppe, PhD
Professor
School of Hospitality, Food and Tourism Management
Macdonald Stewart Hall, #306
University of Guelph | Guelph, ON N1G 2W1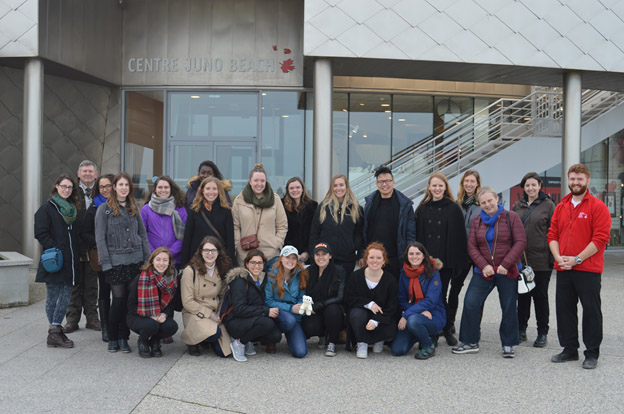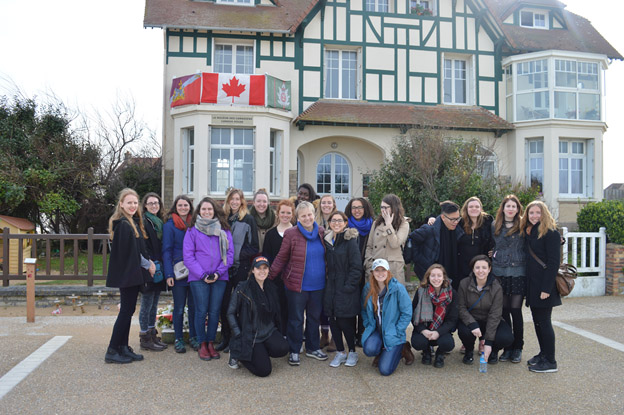 ---
Hello Gary,
Judy and I are about two weeks post our tour, which included the WW2 fighting around the Scheldt Estuary, and The Liberation of Holland, with a visit to the Reichwald and Hochwald Battle sites in Germany.
The tour exceeded any expectations we might have had. My father Samuel Kates fought with the Algonquin Regiment (Part of the Canadian 4th Armoured Division) from July 1944 until after the end of the war, when he stayed on with the Army of Occupation. Unfortunately he survived the war, but succumbed later to Hodgkins Disease at the age of 37. This left huge gaps in my knowledge of his wartime story.  Also, mementos were irretrievably lost, in the cleaning out my mother's apartment.  For years I had discussed with my wife Judy the possibility of retracing Sam's wartime steps by visiting where his Regiment had fought, and finally she decided to book this tour.
We began, meeting Robert in the Roosendaal station, and then off to Bergen op Zoom, where we stayed in a comfortable hotel. Over the three days of touring we traced a number of the operations that the Algonquins and other Regiments of the 4th Canadian Division were involved in. At the beginning of each day Robert would orient us with maps of the Scheldt region, which gave an overview of the campaign to free up the Scheldt Estuary so allied shipping and supplies could make their way to the liberated port of Antwerp. Robert also showed film clips on his laptop, both Canadian and German, which gave further insight into the nature of the fighting.  Driving with Robert, we would stop at strategic points, to review maps, and the evolution of a battle. Robert also carried with him tunics and caps from soldiers who had participated in each campaign. This added a human element to the stories about the fighting. Robert helped us to understand the nature of the fighting, the Allied vs German tactics, and above all the difficult conditions faced by the Canadians, as they fought through the landscape of polders and dikes. Conditions were miserable, and casualties and suffering were high.
A highpoint of the tour took place in Moerbrugge, where the Algonquins unsuccessfully attempted to cross the Leopold Canal, and to establish a beachhead so that an advance to cut off Germans retreating to Breskens could be achieved. One of the few stories I had from my father involved crossing the canal, and later being forced to retreat back across the water. The boats that had carried them across were gone and they were forced to swim. My father couldn't swim, but he recalled that the radio pack on his back kept him afloat. In Moerbrugge, we met Wilfred Morre, a local, who was a child at the time of the failed canal crossing. We toured the battlefield with him and saw the crossroads, which marked the limit of the Algonquin's advance. He also showed us a nearby farmer's field, where the body of a long lost Algonquin was recently retrieved. Later we joined Wilfred for lunch, which he insisted on paying for. What a charming and gracious man. Later that day Robert showed us his personal collection of books, uniforms and artifacts that he had collected in a private museum in his home in Welburg. Robert also took us to several Canadian War Cemeteries including one near Welburg. As we walked past rows of Canadian graves, often grouped by dates, corresponding to the battles we had discussed, Robert would stop and recount stories about several of the soldiers buried there. Again he helped to provide immediacy and relevance to the the personal side of the fighting. Robert also provided helpful suggestions to retrieve more wartime information about my father.
After our time spent with Robert we were driven to Lochem to begin our Liberation of Holland tour. We settled into the Shanda Lee B&B, a comfortable place, located in the central square of Lochem. The following morning we met with Berry and Yvonne to begin our tour of the fighting in Eastern Holland. Berry and Yvonne not only served as guides for battlefield tours, they also were the owners of a local restaurant, Mondani, which specialized in Canadian cuisine, and served as a branch of the Canadian Legion. As Thursday was their day off, (Berry is the restaurant's chef, and Yvonne manages and serves)  both accompanied us for our day of touring. We began with the fighting around Lochem, and then visited Wierden, where the Algonquins suffered heavy casualties attempting to advance from Almelo across another canal to occupy a factory site within the approach to Wierden. In Wierden we were joined by Kees Kroon, a member of the local historical society.  Kees took us to the sites of several Algonquin advances, which failed to take the town from the German  defenders. We also visited a cemetery containing the graves of several Canadian Airmen who had crashed locally, as well as members of the local Resistance, who had lost their lives trying to liberate their town. A powerfully emotional moment happened when Kees pointed out the brass 'stumble stone' in front of the house of a Jewish Family, whose members had been deported to the Nazi death camps. Later Kees took us back to his historical society's location to show us plaques honoring the Algonquins, and a slide presentation, that he was preparing, documenting the liberation of his town. I learned that the Algonquins spent several months after the war, in Wierden, helping with the post war restoration. I also know that my father had stayed on after the war in Holland, probably it was here in Wierden. My father had mentioned that he had a Dutch girlfriend, who had died of typhus. Chillingly, Kees showed a slide, with a news clipping about a local outbreak of typhus.  Kees has promised to send the completed presentation, once it's done.
The following day Berry deviated from the scheduled tour to take us to Germany. I had previously asked him about the fighting for the Hochwald Gap. After visiting the windmill overlooking the Rhine, where Montgomery and Crerar planned the crossing into Germany, we visited a museum commemorating the liberation of Holland. We visited a Canadian War Cemetery, and encountered a school group from Oakville, Ontario, who were also touring Holland. Berry then drove us to the site of the Reichwald Battle, and later the Hochwald. Berry had prepared materials which included maps, and outlined the progression of the fighting.  We also visited the site where Aubrey Cosens was killed, and posthumously awarded the VC for charging a German held farmhouse, and killing the Germans there, before himself being mortally wounded by sniper fire. The highlight of the day was the visit to the Hochwald. We saw the plaque commemorating the battle, then walked through the tunnel under the dike and former railway right of way that passed through the Gap. We then climbed onto the former right of way, that commanded a view of the approach to the Gap, where the fighting apparently had been more intense than Normandy.  I thanked Berry for altering the tours schedule to include the Hochwald.
We made our way back to Lochem, and directly to Berry and Yvonne's restaurant,  Mondani, for dinner. The restaurant is a shrine to Canada, and a must see for anyone visiting Lochem, not to mention the fine quality of Berry's cooking and Yvonne's hospitality. After a wonderfull dinner there we were ushered into the basement of the restaurant, where Berry kept his collection of wartime memorabilia. Berry had numerous artifacts from both German and Canadian soldiers, including an extensive collection of tunics.
The next day we were driven by Berry to Deventer for the train ride back to Amsterdam. We thoroughly enjoyed and appreciated our time with Berry and Yvonne, and grew to think of them as friends.
Overall our experience with Canadian Battlefield Tours was highly positive, and we would recommend touring with you without hesitation. The guides, Robert, Berry, and Yvonne were passionate about the Canadians in Holland, and that passion showed in their expertise and knowledge. They were also wonderful people to have met and spent time with. Throughout the tour a greater understanding of what my father faced and experienced was garnered, although many gaps remain.
Thank you again,
Judy and Martin Kates, Ontario, Canada
---
We recently returned from our three-day tour of the Scheldt battlefield area with Robert Catsburg as our guide.  We were in Belgium to attend the burial service for a relative, Private Kenneth Duncanson, at the Adegem Canadian War Cemetery.  He was killed during an unsuccessful attempt to cross the Leopold Canal near Bruges on September 14, 1944.  His remains were recovered and identified in April of this year. He was laid to rest with military honours by his unit, The Algonquin Regiment, 72 years to the day after his death.
Our personalized and customized tour began the day after the service.  The tour followed the movements of the Algonquin Regiment, who were part of the 10th Infantry Brigade in the 4th Canadian Armoured Division, from Moerbrugge, Belgium to Welberg in the Netherlands.  It was a truly memorable experience because of Robert's encyclopaedic knowledge of the Scheldt battlefield area and the role Canadian forces played in the liberation.
Robert traveled with a large map of movements of the Canadian army in the Scheldt.  At each stop he pulled out the map that covered the hood of his car. It helped us visualize what it must have been like for both the Canadian and German troops at the specific battle site we were visiting.  The daily changes in his travelling museum of artifacts in the trunk of his car added to our understanding of the life of the soldiers.  Viewing Second World War news footage on his computer reminded us of the hardships and triumphs experienced by the soldiers.  This personalized tour allowed us to get to out-of-the-way sites and see things that would have been impossible to visit in a large group tour.  In spite of a very full schedule, we never felted rushed and had ample time to absorb the information.  Robert was always ready to answer our questions and made sure we fully understood the significance of what we were viewing.
We would also like to thank you for putting us in touch with Walter Cami.  He is truly a remarkable gentleman.  He took us to the Last Post Ceremony at the Menin Gate and arranged for Judith to lay a bouquet of flowers in remembrance of Lewis Finch, a first cousin twice removed who died during the Battle of the Somme.  He is buried in the Albert Communal Cemetery Extension.  On the way to the Gate we stopped at Essex Farm and on the way back we visited the Brooding Soldier monument.  Walter also insisted that he drive us from Bergen op Zoom to the Brussels airport when our tour with Robert concluded.
We have nothing but praise for the prompt and efficient way Gary organized this tour for us with very short notice and for the enthusiastic and passionate way Robert guided us for three days.  We would recommend without hesitation,  Canadian Battlefield Tours.
Gordon and Judith Thomas, Saskatoon, Saskatchewan
---
Hi Gary,
We're home now and remembering our tour with Ken Lees very fondly. His knowledge is impressive and the way he presented it, with maps and other materials, really helped us visualize the way things were for those poor soldiers. As for our stops in the Somme, words are inadequate. It was more meaningful than I could have ever imagined, being so close to the ground my great uncle Richard trod and died defending one hundred years ago.
Another example of Ken's vast knowledge and the generosity with which he shares it was on the last day of our three day tour. We had stopped at the monument at Mouquet Farm where we happened to strike up conversations with two other couples visiting from Australia. As it turned out we had all lost great uncles on the same day, September 3, 1916, during the conflict at the Farm. Neither of their relatives had known graves, unfortunately, whereas we were able to go on to the Sunken Road Cemetery to visit mine. Ken pulled out his binder and showed them the approximate location of the Australians on that date. I could tell his information impressed them and will probably stay with them, as it will me, for a long time.
I hope Ken gets a chance to send me the poem he read at the Sunken Road Cemetery. It captured the moment perfectly!
Suffice to say our tour was one of the best experiences of our lives, thanks to you!
I will have no problem recommending Canadian Battlefield Tours and Ken Lees as a guide.
Jane Holland, Belleville, Ontario
---
Gary, while not much of a history buff I didn't know what to expect.  After taking this tour with Ken and staying with he and Karen I must say that Doreen and I were really impressed both with the tour and with the B&B. I don't know how it could have been better, in fact, Doreen and I would be pleased to offer ourselves as references.
Mike & Doreen Weber, Ontario
---
I recently took in the "Battle of the Rhine" expedition with Berry and Jan (to refer to it as a tour seems a little bit of an understatement). It's one thing to read history books – it's quite another to visit the sites where that history occurred.  The fact that the "normal" excursion was tailored to include items that had a personal family meaning was more than I could have imagined. It felt as though I was being hosted by friends that shared my interest and were able to provide a degree of insight that was truly remarkable.
I could go on but I realize that space is limited. I thought that Berry especially went above and beyond what one could expect and when you next speak with him, please let him know that I haven't forgotten about the book I promised to send. I plan to relay my thoughts to my cousin as I'm sure his interest would be piqued- perhaps he will be a future client!
Once again Gary, thank you for the experience.
Jim Forbes,Vancouver, British Columbia
---
Hi Gary:
We recently returned from our three-day WWI Canadian Battlefields Tour. We were very fortunate to have Ken as our tour guide and equally as fortunate that we were able to stay at the B & B run by Ken and his wife, Karen. Ken met us at the train station in Arras and drove us to their B & B in Flers where Karen had a delicious dinner waiting for us, even though it was later in the evening.
Ken's knowledge of our Canadian involvement in the battles of WWI is amazing! He was able to describe the events of the battles in such detail that we were able to feel as if it was right in front of us. We never felt rushed and Ken was able to answer any questions we might have. We were amazed by the number of Canadian memorials in the area and how well all the memorials and Commonwealth war cemeteries are maintained. It is a tribute to the sacrifice made by the soldiers of WWI.
At the end of each day, it was wonderful to be able to return to Ken and Karen's lovely B & B. Karen always had a delicious dinner waiting for us and it was so nice to be able to relax and go over the details of our day. The breakfasts prepared by Karen were feasts in themselves. We were so warmly welcomed into their home that we now feel that we have made great new friends.
We would strongly recommend that every Canadian take this tour. It was very emotional and made us appreciate more than ever that the freedom we have today is largely due to the sacrifice of our Canadian soldiers.
We would certainly recommend Canadian Battlefield Tours, as well as Ken and Karen. If you wish to refer anyone to us for a recommendation, please feel free to do so.
Ed and Gail Walker, Walkerton, Ontario
---
Hello Gary,
On behalf of Jason and myself we advise that the four day tour of WWI battlefields on the Western Front conducted by Ken Lees was exceptional. His intimate knowledge of both the battles and the geography, particularly addressing the Canadian contribution, made for a most memorable trip. It was a most enjoyable and informative experience and we would be pleased to provide references to any parties that are considering the use of your Canadian Battlefield Tours.
I would also mention that we ran into a Canadian couple doing a similar tour on their own using a rental car and a GPS system. I can't see how they could have seen as much as we did, certainly not in the stress-free, comfortable, relaxed manner we enjoyed.
Again many thanks for setting us up.
Bryan & Jason Dudek, Winnipeg, Manitoba
---
Hi Gary,
The tour was great.  Berry and Yvonne were great hosts and he really knew his stuff.  As part of our tour, we went to the small town that my wife's family came from (Wapenveld).  There used to be a family run shoe store in the town but we had no idea where it was.  Yvonne insisted on stopping in at a store and sure enough, she was able to find out where it was in a few minutes (as Berry said, in the small towns everyone knows about everyone's family).  So, my wife was able to get her picture taken in front of the building (which is now a warehouse for the business).
Above and beyond service!!
All in all, a truly enjoyable day!
John Currie & Family, Toronto, Ontario (Liberation of Holland Tour)
---
Hi Gary… I'm not normally one to write testimonials (as you can see by how long it took me to create time for this short one). I hope this is helpful
The single best word to describe the service that Canadian Battlefield Tours provided is "flexible".
John did his homework before we arrived and understood with our limited time we had two key areas we wanted to see. Normandy where my dad was involved in D-Day with British forces and Juno to get a sense of what our fellow-Canadians faced in their battle.
We knew we were going to be in good hands when John offered to either drive or simply act as a co-pilot in our own vehicle. He also offered to have his wife provide a lunch so as to save precious time (it was delicious by the way, and so nice to be able to enjoy it at the very spot where Canadians stormed Juno).
John was very sensitive to the emotional time our family needed where my dad was part of the invasion at Normandy. Based on his online research he was able to direct us to within 100 yards of where Dad's action took place. He allowed us to take as much time as needed even though he knew it would mean sacrificing much needed time to explore other areas.
After leaving Normandy John directed us through the sites en route to Juno.
The depth of his knowledge can't be over-stated. It was hard to take it all in but his experience was obvious as he adjusted his message based on what we actually had previously learned.
I would recommend Canadian Battlefield Tours for a tour involving individuals, families and groups. Regardless if you have a few hours or a few days, they will make great use of your every moment. At the end of your time together, you can't help but be much more knowledgeable in what took place during those critical days of WWII.
Bruce Garrod and family, Ontario, Canada
---
Just a note in reference to a tour our family took on Sunday, September 29 in Normandy. Our guide for the day, John, gave us a wonderful tour. He had information on my father's (Debbie's)  regiment so was able to make the tour more personal. We started with John picking us up at our hotel and had a little 'get acquainted' chat before we began so it was nice to get to know him a little before we started out. A very nice man and very personable. He started our tour by taking us to Juno Beach where he knew my father had walked onto land.  He explained the landings and what our soldiers faced. He then took us along the Maple Leaf route stopping at different points of particular interest. Unfortunately we only had the one day to tour so John made sure we saw as much as possible. His wife was good enough to make us a lunch for a small fee so we had a little picnic.  All told John was an excellent host and we were appreciative of his knowledge and patience when we asked questions or wanted to linger at certain places.  John, we just want to say thank you! A very memorable experience.
Wishing you guys all the best and WHEN we do any tours again we will be sure to look to Canadian Battlefield Tours!
Doug, Debbie & Shari Lemon & Tina Soetaert, Alberta, Canada
---
We could not have been more pleased with our tour and our expert guides for our days in Normandy and Dieppe. The wealth of knowledge, dates and details form John and Frederick gave us a complete and much broader understanding of the times and experiences of our troops in both of those areas.
With John the most moving site visit was the chateau where 27 Canadian soldiers were executed one by one and buried much later to be found in the owners gardens and then of course, the Juno Beach memorial.
Frederick guided us through the battle of Puys Beach where my partner's father had arrived with 650 British and Canadian soldiers and where he was one of only 65 who survived – only to return to the Dieppe shore 2 years later. He survived that endurance as well to live a healthy and productive life.
Frederick also gave us an option which we were glad to have taken – a visit to a missile preparation and launch site. Also a wonderful meal and visit with his family was very special.
Highly recommend any Canadian to take advantage of your uniquely developed tours and exceptional guides – all made our time so valuable and memorable.
Thanks from myself, Bill and my father for your care of us during our time with John and Frederick – never to be forgotten.
Gayle Sadler, Bill Milne & Jack Hill, Ontario, Canada
---
My wife Karen and I were recently fortunate to be hosted and toured by Gary and Dianne McKay, owners of Canadian Battlefield Tours and 't Shanda Lee B&B. From the organization of our tours complete with flights, accommodations, personal and local guides and experts, and detailed, pinpoint history of our forces involvement, we could not have been more pleased and informed. Having had both fathers as veterans of WWII, our interests were varied and on arrival in Europe, we had no idea what was about to be presented to us.
Gary's intimate knowledge of the area and the battle history made this a complete eye opener to both Karen and myself. The intimate detail that Canadian Battlefield Tours and their guides offered made this tour a life experience for us. We were treated to precise detail that could never be offered on a generic tour.
Gary and Dianne's B&B in Lochem, Holland, was a highlight and a perfect central point for our day tours.
We came home with a deep appreciation for the sacrifice and heroism of the Canadian forces. We are more proud to be Canadians than ever before. We would highly recommend the varied, personally planned tours and services offered by Gary and Dianne, Canadian Battlefield Tours, and their local guides. Thank you! We know that we have only touched the surface of what is available.
Greg and Karen Hayden, Stettler, Alberta
---
Hi Gary,
We had a great time, weather was great until the late afternoon of our last day (rain), we had two wonderful tour guides in John and Richard… Seeing the landing sites at Sword, Gold and Juno Beaches, the Juno Beach Center brought all of WW2 into perspective… We also visited the Cathedral in Bayeux and saw the Bayeux Tapestry…
With Richard, we saw the battlefields in the Somme Region, the site where the Red Baron crashed, the German Cemetery at Fricourt, Lochnagar Crater, Thiepval Memorial and Visitor Center, the Canadian Memorial Park on Vimy Ridge, the Notre Dame French Memorial Cemetery and the Ring of Remembrance there…Essex Farm where McRae wrote 'In Flanders Fields', Menin Gate in Ypres, Commonwealth and German Cemeteries at Tyne Cot, Passchendaele and Langemark..
All in all it was a great trip and I would recommend that all Canadians see these sites and realize what a lot of young men died to give us the lives we have today… It is hard to believe that there are so many Cemeteries and Memorials in the region honouring Canadian and Commonwealth countries and how well they are maintained… n the rush to get us to the Train station in Lille in the rain on our last day, I forgot my glasses in Richard's Car… I contacted him when we got home and he packaged and sent them to me, he is a special person and Travis and I really liked him…
Thanks Gary for your effort on our behalf…
Sincerely, Lawrie Schmidt; Calgary, Alberta, Canada
---
Hi Gary,
The Vimy Ridge & Ypres tour was great. The details the guide shared was excellent. My father was very happy with the duration and the details of each site shared. It was one of the highlights of his trip. I also enjoyed it very much.
Thank you for your assistance in arranging this for us. I would recommend this tour in the future.
Darlene Swabb; Edmonton, Alberta, Canada
---
Barry gave us a Normandy tour that went way beyond our expectations. He was superb. The lunch his wife provided lasted us 3 days. His explanations at the sites and anecdotes of what happened gave us a greater understanding of what occurred at the different areas. We had an extremely full day although starting out rainy and later very windy was by far the best we had on the whole cruise. Good luck on your season.
Bob & Marilyn Cowbrough; British Columbia
---
Canadian Battlefield Tours is an excellent way to follow the areas where a relative served during W. W. I or W. W. II. I would highly recommend this Canadian company.
John was very knowledgeable and zeroed in on the areas I wished to visit in Normandy.
Berry and Yvonne provided an excellent tour of the areas of the Netherlands I wished to visit, and included a prepared booklet on each tour day. They were very accommodating regarding time of day and length of tour each day.
Sandy Armstrong; Brandon, Manitoba
---
The Normandy tour with John was amazing. It was more than I expected. John went above and beyond my expectations. I would highly recommend Canadian Battlefield Tours for your tour.
Thank you for the spectacular tour.
Heather Roy, Ontario
**CBT- Heather had a particular interest in visiting her Uncles grave in Bretteville-sur-Laize. His name is Cecil Rogers, with the Algonquins- Grave reference XIII.A.2.
---
We had a wonderful day with Berry on May 13th. He took us to Veendam and Loppersum so we saw those places where Jim's father had been. We took some photos with us and with Berry's knowledge we located a church and the town hall in Veendam that look today just as the photo from the 1940s. Amazingly we also found a windmill that Jim's father had taken a picture of in Loppersum.
Laurette Setterlund; Edmonton, Alberta, Canada
**CBT-Repeat customers
---
Gary, just writing with some feedback on the full day Canadian Normandy tour we did with John through CBT on July 22nd. In short, it was terrific. We started at Juno Beach and the Juno Beach Centre and then followed the "Maple Leaf Route" stopping at a number of significant spots along the way including the main Canadian cemetery and the Abbey d'Ardennes. John was very knowledgeable, informative and entertaining. He was also very patient with us and our 13 year old girls. We did not feel rushed at any point and John somehow managed to get us through the entire tour in the one day, which is a lot of ground to cover. A memorable and worthwhile experience. Glad we did it. Take care. DW
David Wiseman; Toronto, Ontario, Canada
---
Hi Gary, we had a great experience and a lot of fun. Our guide, Richard, was attentive to our needs looking after us for three full-days. His knowledge of the battles and actions of the Great War was impressive and an unexpected bonus was his own experience in soldiering which added greatly to our understanding of the life of a soldier at that time. Also, we really appreciated the effort in researching and then explaining where my grandfather served in the Great War. That attention to my own family's connection to the war was the icing on the cake. Finally, we could never have covered as much ground geographically or historically on our own in just three days.
Kevin Kitchen and family;Saskatoon, Saskatchewan
PS: I would be interested in returning in a few years for a WW2 tour.
---
Hi Gary,
A while ago you asked us to give you comments about the tour of the Canadian WW 1 battlefields that we had with Ken in late June. Since we have been away most of the summer, we are just now getting our heads back to our wonderful trip in North Eastern France. Many thanks for the role you played in getting us to Ken and Karen.
When we met our Canadian Battlefield tour guide Ken, we were greatly reassured that all our questions would be answered and that the tour would more than meet our expectations. Ken is an extremely knowledgeable guide and has the people skills to be able to read each member's particular interests and to be able to respond appropriately. We grew to admire his passion, particularly when we saw the size of his library. Ken tailored an itinerary which provided for visits to the principal sites we wanted to see. The time allotted to each of our 4 days was appropriate and Ken was both good company and well informed. He was willing to undertake additional research when a person or site was of particular interest. The four days we spent with Ken were well planned, smoothly executed and thoroughly enjoyable.
At the end of the day the B&B operated by Ken and his wife Karen was a welcome respite, well located and well suited to our needs. It was very comfortable and the ambience, warm and welcoming. We were happy to beat a retreat at the end of the day to their lush garden to sit and recap the day with a drink in hand. Certainly, the meals that Karen prepares are a highlight of the stay. The three-course dinners were all prepared with fresh ingredients, beautifully presented and absolutely delicious. Breakfasts were more than ample
Overall, we enjoyed our tour with Canadian Battlefield Tours and Ken immensely and would recommend him as a guide.
D'Arcy & Leslie McGee; Bill & Nancy Dickson; Vancouver, British Columbia
---
Robert, I've no idea how to thank you properly. Today you connected me to a part of my father's life story that had been, until now, a closed book.
It was overwhelming on an emotional level and I am profoundly grateful to you for your kindness, your sensitivity and, above all, your impeccable research. You also made my "pilgrimage" so much fun. I only wish I'd properly understood the need for a longer visit to the Scheldt.
I so much wish that I'd been in touch with you and Gary when my father was still alive. Right up until about a decade ago, he would have been able to join us. He would have loved your sense of humour and your incredible attention to detail. I count it as a privilege that you agreed to take me around the key areas of the Scheldt battleground.
I am – and will be for some time – absorbing everything I have seen and heard today. It was an experience I will never forget.
Thank you so much for ordering 554 Field Company's War Diary. It's very exciting to think of the secrets it might reveal.
Tim Barr, Scotland
---
My expectations were exceeded on all counts. Rosemary and Lt Colonel Chilcott were charming hosts, and our accommodations at the Le Manoir des Doyens in Bayeux were quite enjoyable. It was great that Rosemary was able to provide us with transportation both from and to the train station, shared afternoon tea the first day, showed us around their excellent map room, made sure we were able to find our way around Bayeux, and had a lunch ready for us to take on our tour. Time flew by too quickly, as lots of engaging conversation took place the first afternoon, and each morning around the breakfast table.
The battlefield tour conducted by John was very impressive, and left me with memories for a lifetime of the history and landscape where D-day and its aftermath occurred. John is an excellent historian and guide; the drive he took us on around the Normandy beaches and inland, was priceless – the best and only way to go as far as I'm concerned – would do it again in a heartbeat. Lots of time was allowed to take in Sword, Juno, and Gold; the great memorials, museums, and battlefield sites between Bayeux, Caen, and Falaise. It was very moving to see Ardenne Abbey where 20 Canadian soldiers were executed by the SS, the Canadian cemeteries such as Beny-sur-Mer, and on our second day – meeting a couple of French gentlemen who approached us at a Canadian memorial, and asked me, "Vous etes Canadien?" One of the men was from the local area and was orphaned at age 10 when an Allied bomb fell on his parents farmhouse; and an acquaintance visiting from Quebec City, whose cousin, Gerard Dore, volunteered for the Canadian Army regiment Les Fusiliers Mont-Royal when he was 15 years old. Private Gerard Dore was killed on the 23rd July 1944, when he was only 16 years old, and now rests in BRETTEVILLE-SUR-LAIZE CANADIAN WAR CEMETERY. John, David, and myself were all invited back to the French man's house for coffee and to hear more about their WWII experiences. John expertly conducted the French translation. We then went out and found Gerard's memorial site, and then we proceeded to find his grave at the Canadian cemetery. So many highlights, but this was my personal highlight – amazing!
Best wishes to all, thanks for great memories, and hope to see you again in the future.
Earl Walter & David Anholt, Alberta, Canada
---
Thanks Gary, for the marvellous tour. We very much appreciated your knowledge and insight into D-day and the contribution made by Canadians (often overshadowed) but also to the co-ordination required by all allies. The scope cannot be fully appreciated until one sees the vastness of the site. Both Doug and I thought that your tour was the highlight of our time in France. It will bring new meaning to Remembrance Day.
As you have probably heard on your news, a Canadian soldier was murdered while standing guard at our national war memorial in Ottawa and went on to attack the parliament buildings. Seeing first hand the sacrifice that was made during both wars makes the cowardly act more unfathomable. It has certainly strengthened our resolve that there are certain things that are worth fighting for.
We would love to return and spend more time in Normandy. It truly was a life changing experience.
Many thanks again for a tour that should not be missed.
Donna and Doug Banks, Bethany, Ontario
---
I was picked up in Bayeux, as arranged, although I was 15 mins late. We spoke of what I wanted out of my visit and I explained that I would like to follow the same route my grandfather took until his death on the 11 August 1944. We visited and stopped at every village, where my guide had a story to tell every step of the way. We got to the last village at about 12 noon. I decided to go no further and told my guide to have an early day. He asked what I was planning to do on the next day. I was planning to do the beach tour and he insisted on taking me that afternoon, up through the beaches. This saved me half a day on my tight schedule and was very much appreciated. I visited my grandfathers grave and felt very humble to follow in his footsteps and his fellow soldiers. My tour guide was awesome; his knowledge of that area and operations was exceptional. Because of him, I later found out my grandfather was evacuated to Normandy general hospital in Bayeux, where he succumbed to his wounds. I have also a deeper respect for all the troops who took part in the landings, heroes to a man.
I would, and have, recommended Canadian Battlefield Tours to everyone.
Charles Ireland, Northern Ireland
---
Both Richard and John were amazing in their amount of knowledge and we really enjoyed 2 days with each of them. They customized the tour to suit our needs and brought along their own pictures and books. We learned a lot with the highlights being: the tour of an actual battlefield with Richard at Newfoundland plus his teaching of the the underground warfare to us. John took us to some remote areas such as the Pegasus Bridge, Gondre Cafe and Falise Gap. Both were able to answer all our questions and we are glad we did a private tour as we learned so much in the two days each with them. We would highly recommend both to interested parties.
Bruce and Lori, Vancouver, BC
---
Our family thoroughly enjoyed our Canadian Battlefield Tour experience. John went out of his way to make our tour in Normandy specific and personal as we retraced our Dad's and Grandfather's WW2 footsteps.
Berry enthusiastically did the same for us in the Netherlands where our father and grandfather were involved in the Liberation of Holland.
We would certainly recommend Canadian Battlefield Tours to anyone who wishes to do a very personal tour.
Marie Armitage, R. Gary Carey and Sherry McLeod
Ontario Canada
---
We had a wonderful time with John. He was a pleasure to be with for 3 days I'm just trying to deal with the photographs I hope to send a couple to John this weekend along with a thank you note.
Allan & Nancy Walkinshaw, Ontario, Canada
---
When I was searching for tours of Normandy, your company was the first one that made me really stop and research your site. What better way to see the sites our troops were in than with a Canadian company. I recommend tours with you and your guide, John, before any other company available.
Thank you again for an experience I will never forget. We MUST keep these memories alive, our soldiers died for our FREEDOM.
LEST WE FORGET
I want to thank you so much for such a wonderful day. Thank you Gary for setting me up with John. He is a true historian, I learned so much on this tour. Some of it happy and a lot of it sad, but everything seemed so real. I thought I had done enough research to know what I would be seeing, but didn't know even half of it. John, thank you for making it real for me, I could stand and look at places and actually picture what you were talking about.
It is hard to believe these places that are now so quiet and beautiful were filled with death and destruction. Now that the 70th anniversary is almost here, it makes it all the more important that I actually had been there. Thank you for being so patient and answering my many questions. I will never forget this great trip, all that I learned and all that I saw. It was remarkable and made me very thankful for all the allies who fought for our freedom.
Thank you both for keeping this important piece of Canadian history alive.
PS. Sorry I had to quit the tour a bit early. my knees couldn't go anymore, thank you John for getting me back safely to the station
Deb Connell, Canada
---
The tour was fantastic and John was excellent.  We all really got a great appreciation for what happened on D Day and it was very powerful to be at the actual locations where Canadian troops fought.
John's knowledge and insights were great and he told us many things that we didn't know before. He also expanded our understanding of what happened on D Day with respect to the American and particularly the British aspects of D Day (Pegasus Bridge etc.)
Overall a fantastic and very moving day for all of us.
Ian Ray, Ontario
---
Many thanks to Gary McKay and Canadian Battlefield Tours for a once in a lifetime tour of Canadian World War I and II battlefield sites. To sum up my incredible experience I offer a "top 5 reasons to book your tour with Canadian Battlefield Tours".
5. Accommodation – Gary did a superb job of locating excellent hotel and bed and breakfast accommodations.
4. Tour Detail – Through the "private tour by car" format I got to see and learn much more about these events than would be allowed in a larger, group tour format.
3. Balance – Gary and the other tour guides I met combined both expert guiding and the opportunity to strike out on my own and learn about places of great personal importance.
2. Personalized Service – Gary McKay's Canadian Battlefield Tours offered friendly, comfortable and informative service. Most importantly Gary listened and responded in building an itinerary that catered to my areas of interest.
1. Convenience – Amazing ease and convenience in planning the tour. From airline bookings to great accommodation to the tour itself, Canadian Battlefield Tours took care of all the details.
Thanks to Gary McKay and all the people at Canadian Battlefield Tours
Gord Wyatt, Alberta
---
We very much enjoyed our day with Berry and Yvonne and were well taken care of. Our goal to visit the various towns and villages that the British Columbia Dragoons had helped to liberate. was definitely fulfilled. In addition, we appreciated the opportunity to meet an elderly gentlemen who shared his story of being saved by the Dragoons in one of the villages. Since coming home we have discovered other places in that area that we would have liked to visit so we are hopeful that we will be able to do a second trip of much longer duration in the not too distant future.
James and Laurette Setterlund, Alberta
---
My husband and I greatly enjoyed our tour with Canadian Battlefield Tours. For a very long time I have wanted to visit the grave site of my grandfather who died in WWII on Juno Beach. Canadian Battlefield Tours helped me make it a reality. Our tour guide John picked us up from our hotel and showed us many of the major sites along the beaches, educating us about the taking of the beaches by the allies. He did prior research into my grandfathers regiment and took us to the exact landing site they arrived on. It was not a generic tour at all but a customized tour to my grandfather's and the Canadian experience. Being able to see my grandfather's grave site was very moving and a moment I will never forget. Thank you John and Canadian battlefield tours for an unforgettable day.
Kyla Maki – Alberta
---
A uniquely close-textured experience, quite impossible to have arranged and executed independently, which has given us a treasure of impressions and thoughts.
John & Gillian Drinkwater – UK
---
Stalag V111B tour; 9th to 12th September 2013.
My sister and I took part in this tour as our father had been a prisoner of war between May 1940 and April 1945.
We were part of a group of eleven who took part and we shared information and learnt from each other. The programme was well planned and we certainly fitted a lot into the time we had. Because of Gary's contacts we also were invited to meet with some Polish people who were very interested in our trip and our Father's stories. This included being invited to a school and to two Civic receptions. We all learnt a lot from the trip and the people we met. At times the experience was moving, emotional and sad, but we also had fun together as a group and got on well, supported by Gary McKay and by Philip Baker.
Memories of this trip will stay with me for ever.
Thank you for giving us the opportunity to make the journey to Poland to honour the memory of our father, and to gain more understanding of his experience of being in Stalag V111B at Lamsdorf.
June Johnson & Kath Downton – UK
---
Our Normandy tour day with John was wonderful he is very knowledgeable. John definitely met our expectations and we were completely satisfied. John assisted us with some important details prior to our arrival in Bayeax from Paris. He picked us up at our hotel and we spent the day visiting various Historical sites on our list. He dropped us off at the train station for our trip back to Paris. We have only been back for a week and can't wait to reviewing the pictures and the books we brought back with us.
Lloyd and Sue Service – Ontario
---
I learned so much about the opening up and eventual liberation of Holland and the Rhineland campaign from Gary McKay in two days of travel with him through this very beautiful part of Europe. He's a great tour planner and guide, and just as importantly he's excellent company on the road. My mother and I have memories from our experiences together on this tour that are now shared treasures for us. A private tour is the only way we would have seen and learned as much as we did. From our trip with Gary we have brought home stories that we will re-tell to our family about the places where our fallen relative spent the last weeks of his life; strands of history that will help us perpetuate his memory in our family, hopefully for generations to come.. I must have told the story about you taking us to Haus Seelen three dozen times since I got back home and I still get shivers every time I think about it. Being at a place where my relative almost certainly was present, only 68 years ago, was profound.Thanks to the tour with you I have lots of new information that will be a springboard for me to learn more about those weeks during Operation Blockbuster. I have already requested a copy of a transcript of an account given by Brig. Gen. Megill (5th Infantry Brigade) that is in the National Archives. I am also going to see if I can get copies of the submissions that the Calgary Highlanders made in the 1950s for their various WWII Battle Honours. Interestingly, Haus Seelen and Birten were on the Highlanders' list, but were not accepted for Battle Honours recognition. Nevertheless it would be interesting to see what the Regiment's written descriptions were of those engagements.
Doug Wright, Newfoundland
---
Please accept our thanks for all of your considerable efforts and good advice which made our trip to the Netherlands such a wonderful experience.The layout and location of your Bed and Breakfast is exceptional. The rooms are a serene mix of Dutch heritage and spotlessly clean modern convenience. We certainly enjoyed the variety of food offered each morning in the dining area. The balcony was a splendid place to begin and end the day, absorbing the peace and beauty of your garden. The convenient access to the square in Lochem with all of its shops and restaurants was a real treat.
We found the battlefield tours to be both informative and relaxing as we followed actual routes that the Canadian First Army used, getting to places only a small vehicle could access. Gary, your enthusiasm and knowledge of the events of the Liberation helped us realize what a struggle it was for the Canadian soldiers in 1944-45. We appreciated your flexibility in your tour planning, accommodating our particular "must sees" and the weather. Your good humor made each day a delight as we traveled through the back roads and small villages.
We would heartily recommend Canadian Battlefield Tours to anyone who has the desire to know more about the Canadian involvement in the Liberation of Holland and are also interested in experiencing life in a small village in the Netherlands.
Joyce and David Thompson Guelph, Ontario
---
Our recent Canadian Battlefields tour in Germany with you was exceptional! It could not have been better and all the work you put in and attention to detail was very evident over our two days together. My son and I were very interested in my father's service with the Calgary Highlanders in Germany close to the end of WWII; where he saw action and where he fell. Thank you for taking the time to research our particular, personal objective and to make sure we had an accurate understanding of what we were seeing.
Joan Wright, BC
---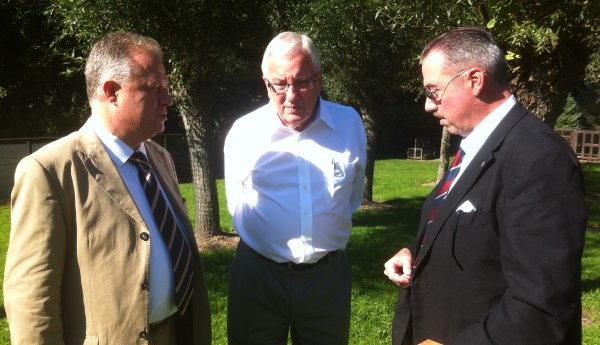 Canadian Battlefield Tours provided me with exactly the type of in depth tour I had hoped for. My personal interest in Belgium was looked after. I was representing my community to pay respect to a fallen airman from Norwood. Canadian Battlefield Tours, on their own, arranged a lovely reception and ceremony with local dignitaries of Waasmunster for me.
My interest in seeing where an uncle had fought in Holland were highlights of the tour. The guides I worked with were very knowledgeable and extremely enthusiastic and at every stop I was allowed to decide how much time I wanted to spend at that location. Overall I am delighted that I chose Canadian Batttlefield Tours for my first trip to look at WW11 history. I am thinking of another trip in the future and will use this company again for sure.
Doug Pearcy; Mayor, Norwood, Ontario
---
Ken and I Just wanted to let you know that we really enjoyed Lochem, the restaurants and your B & B. What a lovely town! We appreciate all the driving you did and the sites we visited. Following my Dad's Division of the Canadian Army was very moving for me as well. We loved your 'door to door' service from Amsterdam to Lochem and back. Thanks so much.
Ken and Sharon Weitzel, Ontario