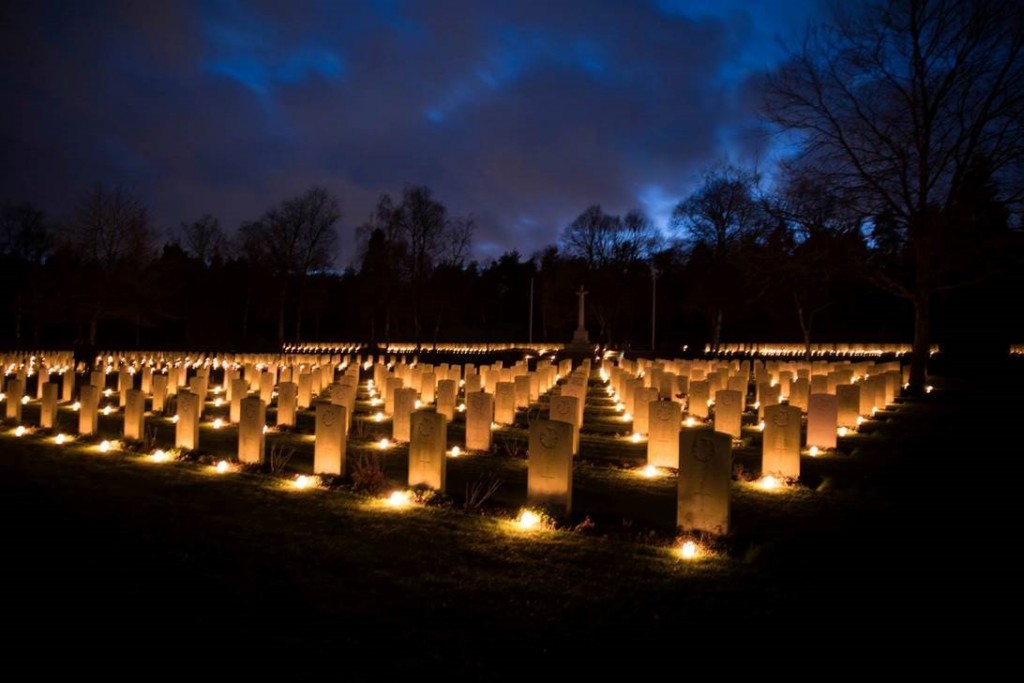 There are three options to choose from, or if you want to experience the entirety of what was required to liberate Holland, combine all three. Each option is ideally structured for three days or make it a nine-day tour if you choose all three together. However, if you're faced with time and/or budgetary constraints, we can work that out to your satisfaction. If you have a specific interest in mind; if you only have a day or two to tour, no problem. Just tell us what you want, and we will sort it out. If you simply have a general interest, we'll be happy to make recommendations. Any questions, just fire away! We will make it work for you, from one day up to nine. What follows is a summary of the various options.
Please click on the links below for a much more detailed history of the various options.
Most Canadians, when they think of the Liberation of Holland, think of the most celebrated ceremonial locations like Groesbeek & Holten War cemeteries, Apeldoorn, just to name a few, which are all worthy locations. They may not be aware of the herculean tasks and horrific battles that faced the First Canadian Army under the most difficult conditions. We have all been lulled into thinking that Normandy (Saving Private Ryan) and Spielberg's Band of Brothers, represent the very worst of the WWII Battles. Not so. The Battles of the Scheldt and the Rhine matched in intensity and all other aspects, these much better-known battles. Largely unknown and underreported, the Scheldt and Rhine battles were the worst of the war, for Canadian Veterans who fought them, including my father. They were horrific and fought under the worst of conditions. Close to 2,000 Canadians killed in the Scheldt Battles are buried in Adegem or Bergen-op-Zoom Canadian War Cemeteries. Most of the almost 2,300 burials in Groesbeek Cemetery are Canadians killed in the Battle of the Rhine. And, almost 1,400 Canadian heroes are buried in the beautiful Holten Canadian Cemetery, casualties of the final phase of the war.
The fighting in the Holland was bitter but ultimately the Canadians were able to liberate the Dutch people and help bring the Second World War to an end in Europe. This victory, however, came at a terrible cost. More than 7,600 Canadians died in the efforts to free the country and are buried far from their homes and loved ones. More than the high casualty cost of Normandy. Others returned home with injuries to body and mind that they carried for the rest of their lives.
Option 1 – The Battle of the Scheldt
In the months following D-Day, the Allies needed a reliable way to keep supplies flowing to their forces on the European continent. To do this, they required a good seaport. The Belgian port of Antwerp was captured almost intact, but it lay almost 80 kilometres from the sea and was accessible only by a long estuary whose shores were controlled by a German garrison, some 120,000 strong. Much of this coastal area was Dutch and, in the fall of 1944, the First Canadian Army led the way in fierce combat under harsh conditions to clear the German occupiers from the shores of the Scheldt River and open the waterway to vital shipping. It was a treacherous landscape; flat, wet and soggy and unseasonably cold. R.W Thompson, a famous British Historian and Author, wrote that this ground and the conditions were the worst that any soldier ever had to fight under, including Passchendaele. More than 6,000 Canadian soldiers were killed, wounded or captured in this gruelling but victorious campaign that became a key step in the liberation of Holland and the end of the war.
Please click for more information – http://www.canadianbattlefieldtours.ca/channel-tours-battle-of-the-scheldt/
Operation Infatuate & Vitality
Battle of the Scheldt / Walcheren (PDF, 1.42 mb)
Battle of the Scheldt Postscript (PDF, 75 kb)
Option 2 – The Battle of the Rhine
Our Battle of the Rhine tour covers 3 major battles: Operation Veritable, Operation Blockbuster and Operation Plunder. It has been noted by several Military historians, that these battles were the most 'under-reported' of the war. Many Veterans are on record as saying that these battles, along with the battles of the Scheldt were the worst of the war for them. Operation Veritable was the largest artillery shoot of the war, only surpassed 6 weeks later on March 23, 1945, by Operation Plunder.
Our tour starts at the South Mill, in Groesbeek. In the cupola of this mill was planned the spring offensive of 1945 by 450.000 British & Canadian soldiers, commanded by Canadian General Harry Crerar, that cleared the Rhineland up to Wesel & allowed irresistible Allied armies to cross the Rhine and end the war. On January 21st, Corps Commanders Lt.-Gen. Simonds (2nd Canadian) & Lt.-Gen. Horrocks (British XXX Corps.) climbed to the cupola of the mill to relate the terrain to their maps and allot divisional objectives. Then came dozens of officers, from division commanders down to platoon leaders, to study the ground over which the attack would go forth on Feb 8, 1945 behind the heaviest artillery barrage of World War 2. The crucial role of this mill, as the prime observation post for guns in the Nijmegen Salient, has been immortalized in The Guns of Victory by Capt. George G. Blackburn MC, who as an artillery forward observation officer, spent much of the winter of 1944-45 in its cupola. There is a plaque on the mill dedicated to Capt. Blackburn, who was a personal friend of mine. George sent me copies of his Normandy maps of Normandy many years ago. These maps figure prominently in my Normandy tours.
We spend time at the beautiful Groesbeek Canadian War Cemetery, which is situated close to the eastern Dutch city of Nijmegen. More than 2,300 Canadians are buried here, most killed during the Battles of the Rhine. I personally have two relatives buried here; Lloyd Dykstra of the North Nova Scotia Highlanders, who was killed Feb. 19, 1945 in the battle for the Goch-Kalkar road and Frank McKay, a gunner with the 4th LAA, who was killed March 23, 1945, during the opening phase of Operation Plunder. In addition, three gunners from my Fathers Battery are also buried here. Also buried here is Sgt. Aubrey Cosens VC, with the QOR's, who was killed at Mooshof, also along the Goch-Kalkar road. The Groesbeek Memorial at the entrance to the cemetery contains the names of another 103 Canadians who have no known graves. We then follow the route set out in the following narrative. Unlike 1945, this is a beautiful part of Germany and well worth a visit.
http://www.canadianbattlefieldtours.ca/battle-of-the-rhine/
http://www.canadianbattlefieldtours.ca/operation-veritable/
http://www.canadianbattlefieldtours.ca/operation-blockbuster/
http://www.canadianbattlefieldtours.ca/operation-plunder/
Battle of the Rhine (PDF, 21 kb)
Option 3 – 'Final Phase'
The final phase is what most people think of, when considering a Liberation of Holland (LOH) Tour. Most LOH tours are ceremonial in nature and focus on the most famously mentioned names like Holten Canadian War Cemetery, Appeldoorn, Zutphen and Wageningen, just to name a few, which are all worthy locations. Of course, we visit these sites too, but so much more.
We think it is important for Canadians to know how a majority of those 1394 Canadian heroes resting in Holten, lost their lives. We will take you to the battlefield sites where these Canadian heroes lost their lives. This will bring so much more meaning to your visit to this beautiful cemetery. Where were they killed? What battles? We follow in the footsteps of 2nd Canadian Corps, most notably 2nd, 3rd and 4th Division (through Doetinchem, Lochem, Almelo, Meppen, Sogel, Friesoythe & Oldenburg), following their crossing of the Rhine River in March 1945, through Holland until the cessation of hostilities. In addition, we visit a few places where 1st Canadian Corps fought, notably Arnhem and Apeldoorn, Deelen, Otterloo, Barneveld, Voorthuizen, Nijkerk, Putten, Ermelo and Harderwijk.
This final phase of the Liberation of Holland begins in Rees, Germany and ends in Groningen, Holland and covers the time frame between March 24 and April 18, 1945.There were many battles fought during this span, such as Speldrop, Bienen, Millingen, Emmerich, Hoch Elten, Doetinchem, Wehl, Warnsveld, Rha, Zutphen, Twente Canal, Leesten, Lochem, Laren, Holten, Schipbeek Canal, Deventer and Groningen.
You will visit infamous V1 Launching sites that the Germans wreaked havoc and death on London and Antwerp. You will learn, from our local Dutch guides, about the heroic efforts made by the local Dutch resistance against the NSB, in the Laren area, where they saved many Jews and rescued many downed airmen (this area was a major flight path and many planes, German and British, came down here).
Additional Tour Information
As with our other tour options, these tours will be private, personalized tours, available anytime on a first come-first serve basis, ideally for groups of 1-3 people. As with our other tours, our personalization service allows you to participate in the structure of the tour. If you have any special requests, like following the footsteps of a specific Veteran or unit, we are happy to accommodate, whenever possible. If you do have an interest in a specific soldier or unit, please provide us with his details and we will do some preliminary research, to make your tour an even more meaningful experience.
Most guests taking these tours arrive at Schipol Airport (Amsterdam). You will be responsible to get to the starting locations in Holland.
This tour, as well as our others, will be priced on the following basis. The price quoted will be for all ground transportation within the battlefield areas by a professional guide. It does not include anything else. Of course, we are happy to make recommendations to help with your travel planning, like hotels, B&B's.