For many Canadian and British Veterans, the Battle(s) of the Scheldt were the worst of the war for them; worse than Normandy. We visit all the sites covered in Operations Switchback, Vitality, Infatuate, Suitcase and Woensdrecht. Please refer to our sub-menus for a detailed examination of these events which include the Breskens Pocket/Scheldt estuary, Flushing, Walcheren Causeway, Leopold Canal as well as Woensdrecht where the Black Watch suffered their worst day ever during the war on Black Friday October 13, 1944. You will visit these sites and many more, including the beautiful Canadian War Museum and the Canadian War cemetery, in Adagem, Belgium
The Canadians admirably accomplished their mission, enduring the most appalling conditions of mud and water, created by the German's destruction of the dikes. The Canadian victories ultimately resulted in the opening of the vitally important Antwerp docks. Oddly, the Canadian and Polish success in accomplishing their tasks were ignored at the grand opening of the docks, where the Americans and British were on the podium. The Canadians and Poles weren't invited!
Operation Switchback
Operation Infatuate & Vitality
Operation Suitcase
The Battle for Woensdrecht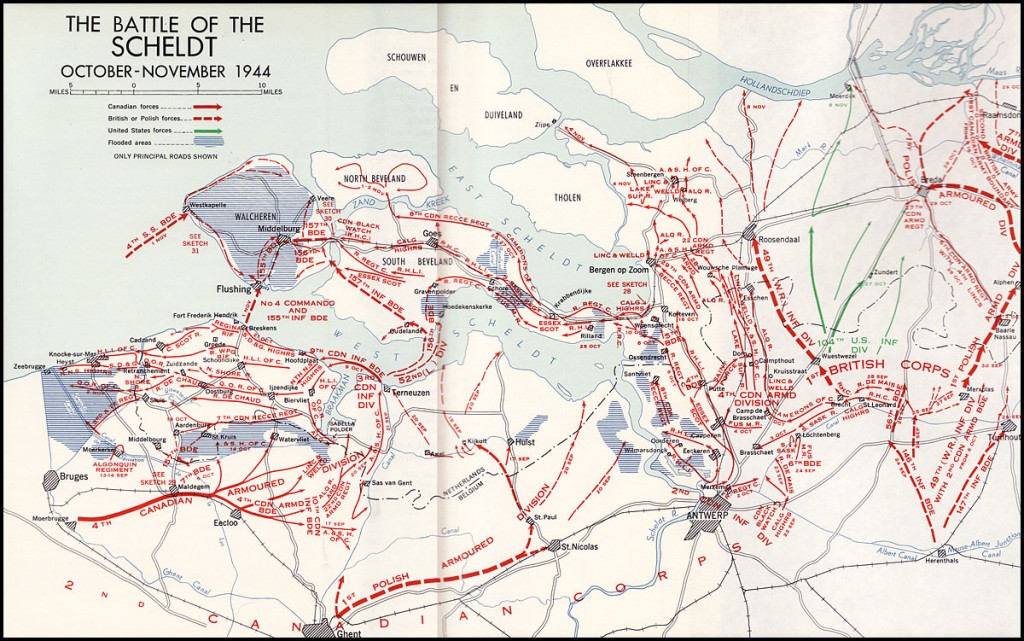 More Information
For an explanation of our detailed itinerary policy please see Detailed Itineraries.
Battle of the Scheldt / Walcheren (PDF, 1.42 mb)
Battle of the Scheldt Postscript (PDF, 75 kb)
Additional Tour Information
As with our other tour options, this tour will be a private, personalized tour, available anytime on a first come-first serve basis, ideally for groups of 1-3 people. As with our other tours, our personalization service allows you to participate in the structure of the tour. If you have any special requests, like following the footsteps of a particular Veteran or unit, we are happy to accommodate, whenever possible. If you do have an interest in a particular soldier or unit, please provide us with his details and we will do some preliminary research, to make your tour an even more meaningful experience.
Most guests taking this tour arrive at Schipol Airport (Amsterdam). You will be responsible to get to Bergen-op-Zoom, where the tour originates and ends.
This tour, as well as our others, will be costed on the following basis. The price quoted will be for all ground transportation within the battlefield areas, with professional guid. It does not include anything else. Of course, we are happy to make recommendations to help with your travel planning, like hotels, B&B's. There are many hotel booking sites but we have always liked http://booking.com.