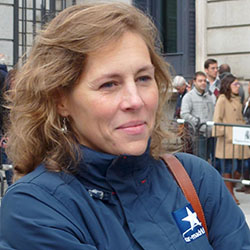 Sonia Hidalgo
Born in Madrid in 1971. She graduated at the High school Lycée Français de Madrid in 1989. In 1994, she got her French Philology Degree at the Complutense University of Madrid. She completed course work for a PhD on French Literature in 1997, specializing on the French and Anglo-Norman Middle Ages. During this time she became interested in Celt Mythology, linked to middle age literature, which led her to investigate Celtic Civilization.
Sonia speaks English, French and Italian.
Professionally Sonia worked as a teacher at the French Lycée in Madrid as well as in other schools, and in the banking sector in Luxembourg and Madrid.
Sonia's special areas of focus for guiding is the Spanish Civil War.