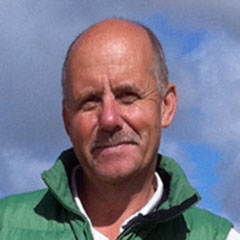 Peter Smith
Peter's life has revolved around the Great War since he inherited his grandfather's medals and diary as a small boy. He grew up in rural East Yorkshire before joining the Territorial Army at 17. At 21 he decided he needed a little more action and enlisted as a Royal Marines Commando, serving with them for eleven years.
For the next 14 years Peter worked in the print industry, finally as the sales director for a Dorset based company.
In 2004 he moved to the Somme battlefields of France, where he started a bed and breakfast in the historic village of Flers. He now works full time as a historian, battlefield guide and researcher. His expertise encompasses the British, Commonwealth and American experience and battlefields of the western front.
Peter is a member of The British Commission for Military History, The Guild of Battlefield Guides, European Tour Operators Association and The Western Front Association. He is a prolific collector of Great War ephemera and photographs, many of which have been used in related publications.