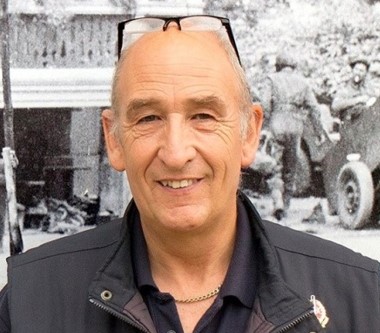 Ed Church
Ed has been a military historian for over 40 years. He has always had a passion for understanding the conflicts of the past as he believes it strengthens our understanding of the present. Coming from a large family which sent their menfolk to war over several generations it was natural that he should want to try and understand what sort of men these were and what drove them, ordinary men, to perform such acts of gallantry, endurance and selfless sacrifice.
He has led in excess of 1,300 tours, his experience encompassing the Western Front, Normandy, Arnhem, Berlin, Munich, Nuremberg, the Obersalzberg and Krakow. Ed also specializes in guiding schools, having co-founded a schools' tour company in 1995. He is an accredited Guide of the Guild of Battlefield Guides, having achieved his badge in 2004.
He specializes in the Battle of Britain and the Blitz, the Battles of the Somme, Ypres, Arras, D-Day, Operation Market-Garden, The Rise & Fall of the Third Reich, The Holocaust, with particular reference to Krakow and Oskar Schindler, and the concentration Camps. He also guides the Battle of Waterloo.
Aside from guiding, Ed has a passionate interest in collecting militaria and is a Living Historian, portraying the lives and equipment of the Great War soldier and has taken part in several television and film programmes as a specialist extra. He is also a presenter and historian for Battlefield History TV.
For the past 46 years Ed has been a law enforcement officer working variously for the Border Protection and Customs services, but is now partially retired, enabling him to devote more time to his first love, battlefield guiding!