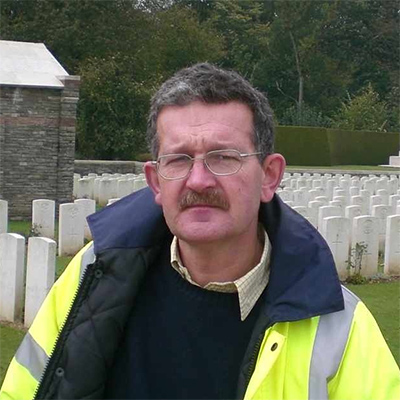 Andrew Robertshaw
Andrew Robertshaw, Military Historian and Battlefield Guide, BA, MA, FSA
I am a freelance military historian, author and broadcaster who has specialised in the study of the two world wars. I was previously a Museum Director at The Royal Logistic Corps Museum, and before that Head of Education at the National Army Museum in London.  I have written fourteen military history books. Although I am well known for my work on the Great War I began my guiding career in Normandy in 1984 and went on my first tour with Rose Coombs from the IWM in 1979. I am a member of the Guild of Battlefield Guides and hold a ETOA Tour Guide ID.
I act as Subject Mater Expert for the MOD and guide for school, college and adult parties. My most recent tours include Crete 1941, Operation Husky 1943, Monte Casino 1944, Ypres 1914-17, Normandy and Arnhem 1944 and last year Gallipoli 1915 for a 17 Port and Maritime Regiment RLC. My experience includes guiding from family groups to Staff Rides and I arrange General Shouesmith's tri-service Normandy tour in 2014. I am planning tours of Berlin 1945 and the Battle of Britain in addition to the 100 Days Study for the Canadian Army next November. During my career I have taught soldiers at the Infantry Training Centre at Catterick, officers of the RLC and as a contributor to the Intermediate Command Course at Staff College, Shrivenham
I am Vice President of the Hawthorn Crater Association and responsible for the archeology and interpretation of this important site on the Somme. Archaeology will begin the spring of 2018 and the public launch will be in November of that year.
I run a commemorative event at in the Sunken Lane at Beaumont Hamel every 1st of July and have done so since 2006.  This project offers the opportunity to interpret a site little known to the public despite its significance, the only mine blown twice on the Somme. It also offers the opportunity for field schools and 'hands' on' archaeology.  I am an Honorary Lecturer in Public Archaeology at University College London.
I am a consultant for television, specifically military history and archeology. My television credits include 'Who Do you Think You Are?', 'Time Team', ' The Trench Detectives', Pearl Harbour', 'The Trench Detectives' and 'The Somme the True Story'. Many of these programmes are on The History Channel and other services, which means I am known to a large number of people with an interest in military history worldwide. My largest movie project to date is 'War Horse' for Steven Spielberg. On this project I was employed to be Military Consultant and was on location throughout the filming. In the period before filming started I was consulted on the screenplay and worked with Richard Curtis. More recently I worked on the film 'Wonder Woman' as historical consultant and am now working with a famous film director on a project I cannot disclose