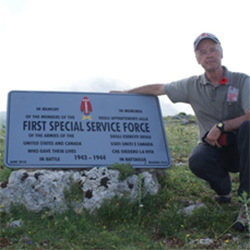 John Hart
John is the son of Veteran Geoffrey Hart, who served with the WW2 First Special Service Force [Devil's Brigade]. John is the Canadian V.P. of the First Special Service Force Association.
John took up the search on his father and the unit that he served, beginning in 2008 and has been touring ever since. John has organized and participated in the areas that the First Special Service Force fought, in Italy and Southern France.
His passion and desire to personalize each tour for the participants has brought the history and connections to all that have joined these tours. John works with the locals in these areas and actively walks in the footsteps of the men of the First Special Service Force through the battlefields, liberated towns and villages that still hold many secrets from long ago.